For many eCommerce businesses, retaining new customers is every bit as big of a challenge as attracting their attention in the first place. Lead nurturing plays a major role in D2C (direct-to-consumer) marketing, and building an email marketing strategy is a cornerstone of any solid eCommerce marketing plan.
Today, we'll go over how important email marketing is in eCommerce and then we will be laying down the ground work for eCommerce marketers looking to make email a major part of their customer acquisition and retention strategy. We'll break down these 5 crucial steps to establishing a well-structured and successful email strategy in B2C marketing:
From there, it's all rinse and repeat! Let's dive in!
How Important is Email Marketing in eCommerce?
Your email list and campaigns drive traffic back to your site by providing a variety of incentives on a regular basis. With an ROI of 3,800%, and coming far ahead of social media in customers' lists of preferred ways to receive promotional offers, email is a can't-miss opportunity to reach your customers in a highly personal space - their inboxes.
Content marketing, through which businesses create and distribute original content that their customers find valuable, is also great to conduct through email. With the potential to communicate your messages to specific segments on your email list, you can reach your customers in a more targeted and personal way.
Now let's break down those steps into a little more detail.
How to Build Your Subscriber List
To make use of emails, you need to grow a list of subscribers to receive them, which means convincing prospects and customers to join it. Choosing the right incentive to offer people in exchange for their addresses is crucial. This incentive can be in the form of a specific discount, a promise of exclusive future deals or promotions, or access to valuable insider content relevant to your company industry.
Having decided on the right hook, you must design compelling sign-up opportunities and strong landing pages. Prospective subscribers can be guided to sign up landing pages in a variety of ways:
Site pop-up ads
Blog post links
Social media links
Paid Ads on Social Media
Your landing page content should include a clear-cut, persuasive headline explaining the benefits of joining your mailing list and an opt-in form (the email sign-up box). Opt-in forms, which are compact and simply designed, also have a spot in other parts of your website, such as your About Us page, sidebars, header and footer, and even check-out page.
Segmenting Your Email List for eCommerce
In segmentation, your contacts base is sorted by a variety of criteria; it can be done both at the time that each subscriber enters the mailing list, and later on as their behavior is registered and analyzed by your software. Depending on your company's unique structure and needs, these will vary, but there are several criteria typical of eCommerce to serve as guidelines.
Engagement Level
Engagement level is one typical way of organizing a mailing list. Engaged subscribers show clear interest in your product offers and yield high email open rates; they should accordingly be reached out to more frequently. Less engaged subscribers, whose interest is waning, should be treated carefully and contacted on a "quality over quantity" policy. They may require a re-engagement campaign.
Purchasing Patterns
The purchase history, frequency, and recency of customers is another powerful data set to use in creating relevant and timely offers. Purchasing patterns are certainly valuable for determining when to launch promotions and mapping out a content calendar, but the individual's info matters as much as the group's when it comes to retaining contacts. Frequent buyers and big spenders rightfully deserve to be treated like they are valuable.
Demographics
Finally, demographic data like age, gender, and geography cannot be discounted. As visuals and product pricing may be major features of your email body, it is important to draw recipients in with the products that matter to them.
Choosing the Best Email Marketing Software for eCommerce
Just like your eCommerce store site and social media, an email strategy requires the use of the latest email technology to optimize, personalize, and schedule your emails. Some of the best software for B2C email include:
With features like CRM, integration with various platforms, and a range of different approaches to analytics, comparing them side-by-side, (for example, HubSpot vs. Klaviyo) may be most helpful. Luckily, there is no shortage of articles to help you choose the right marketing automation which will be the best fit for your company.
Best eCommerce Email Marketing Templates
Any well-developed email marketing strategy requires a diverse set of emails with different applications for a number of situations. Let's explore the most effective campaigns and templates that give B2C email its potency.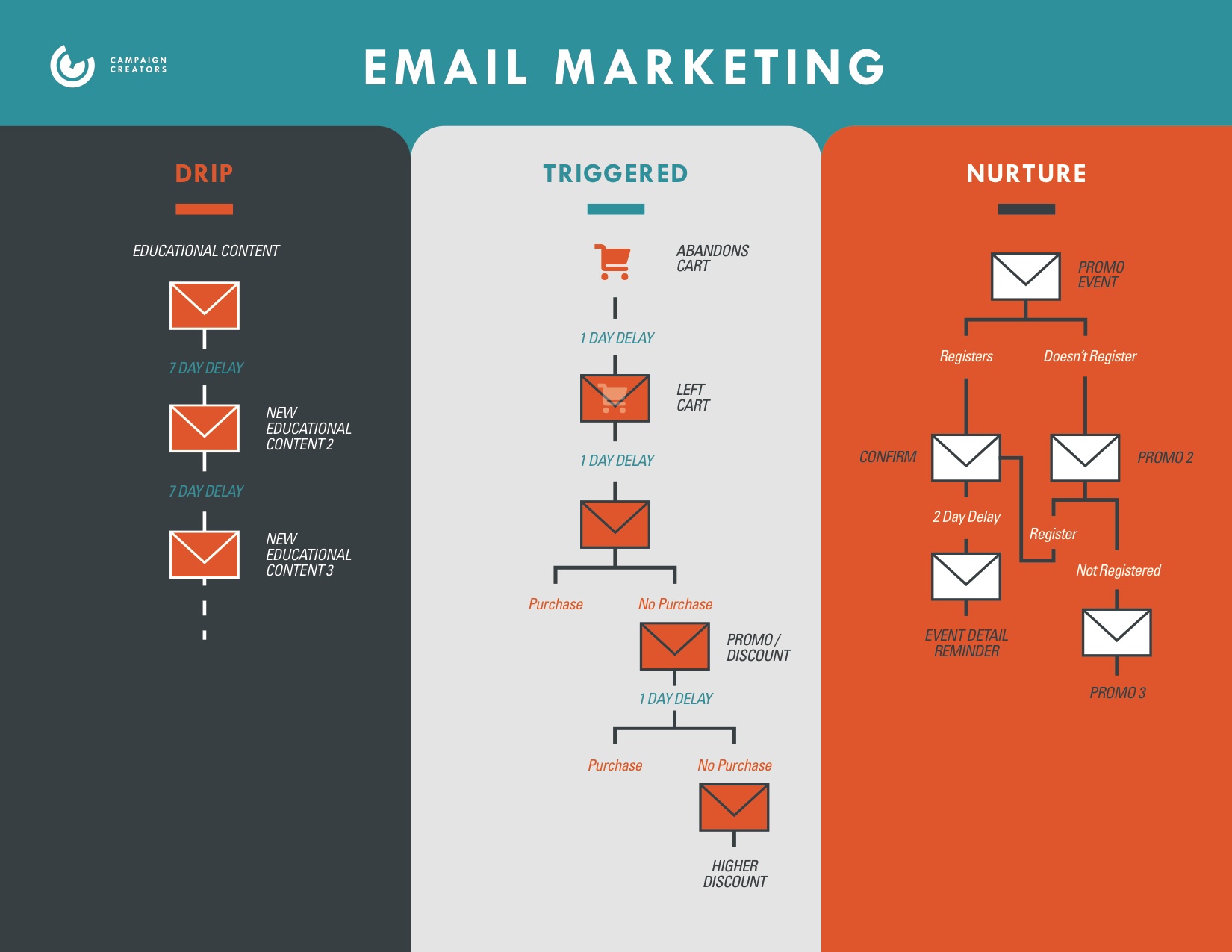 Welcome Emails
As a nearly universal aspect of the eCommerce shopping experience, customers have come to expect welcome emails in their inboxes upon subscribing to a new mailing list or making a purchase from a company for the first time. The stakes are high to get message and tone right on this email, as it will serve as a first impression in your relationship with a new customer.
Your welcome email is first and foremost intended to confirm that the recipient opted in to receiving emails or made their purchase. While engagement opportunities abound, be careful bombarding the emails with aggressive sells at this stage. It should also be noted that welcome emails are one of the types within your email strategy that are optimal to send in sequences. Here is an example welcome email from Sphero: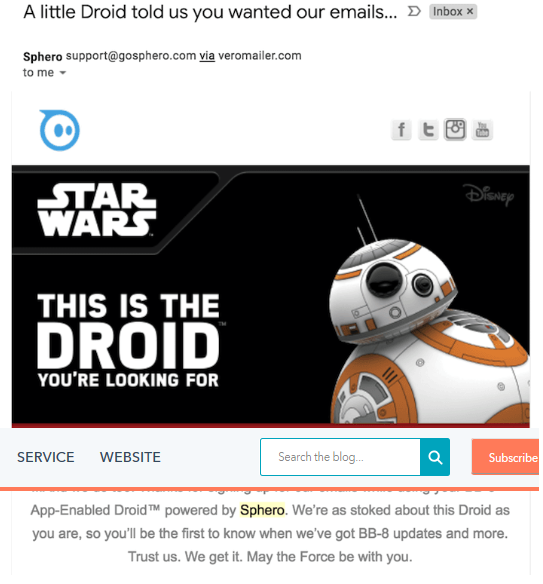 Discount/Promo Emails
Promotional emails have great potential to capture customer interest by offering what it perhaps the most directly valuable to them. From sitewide discounts to seasonal sales, they will appreciate being in the know about the latest offers from your site. For even better incentives, first or exclusive-access offers make your mailing list seem truly advantageous to be subscribed to.
Keep in mind that a personal touch is always better. Whether it's a holiday sale, a birthday coupon, or a "we thought you might like this" discounted item suggestion, you will build a stronger relationship by reminding recipients consistently in little ways that you prioritize their satisfaction. Here's an promotional email example from Mountain High Resorts: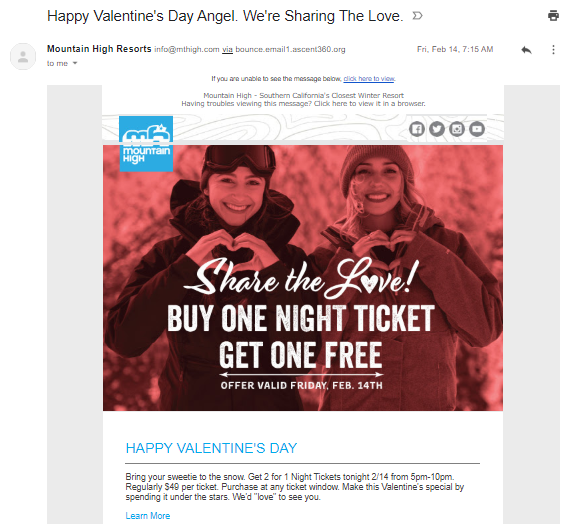 Abandoned Cart Emails
Abandoning a cart before finalizing the purchase is an all-too-common consumer behavior; 69% of all eCommerce visitors abandon their shopping cart! For this reason, abandoned cart emails are vital to incorporate into your strategy. A gentle nudge in the form of a reminder--or, in some cases, even a small discount-- may be just what a customer needs to hit the checkout button.
According to Bluecore, these emails have the highest average conversion rate (2.63%) and click-to-conversion rate (21.78%) of any triggered B2C email. As another type of email that can be sent out in a series, abandoned cart emails are best managed by email automation software, which schedules them at regular intervals from the date of almost-purchase. Here's an example from Bath & Body Works: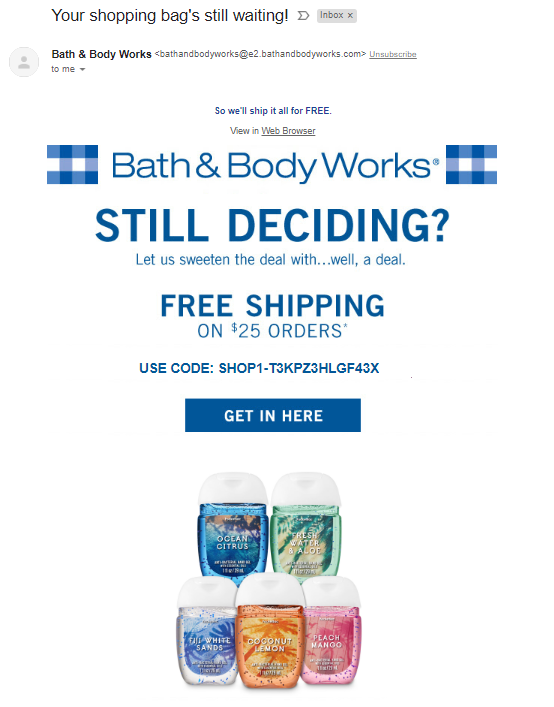 Order Confirmation Emails
Conversio found that every order confirmation email earns eCommerce stores $0.25 of extra revenue; that can add up considerably. An order confirmation is also an opportunity to segway into a variety of re-engagement strategies, including customer feedback, product suggestions, and product education. Here is an example from the Dollar Shave Club, you can see that they took advantage of this confirmation email by offering a referral incentive: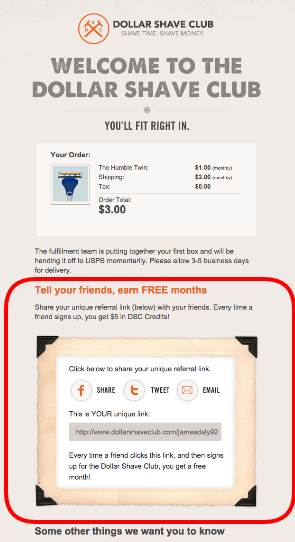 Re-Engagement Emails
It is only natural that once-active customers can become disengaged from your emails-- and your company-- over time. If they haven't purchased, visited your site, or even opened your emails in several months, it is time to deploy re-engagement to get them interested again. After all, it is less costly to re-engage an existing customer than attain a new one.
Automated re-engagement prompts must feature truly captivating offers, which are best showcased in the subject of the email. To remind them of your long-standing relationship, you can even evoke pathos with a "We Miss You!" message to remind subscribers that they are valued by the company. In this example, Urban Outfitters practiced the perfect blend of humor and emotional appeal in their re-engagement email: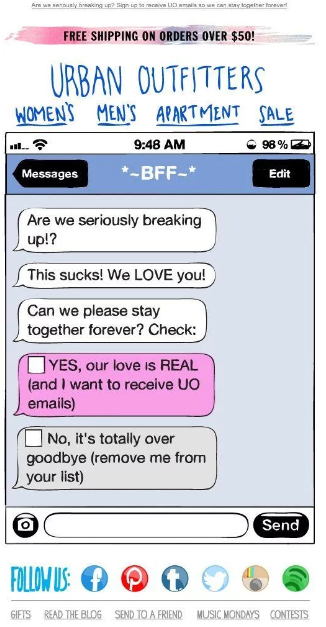 Upsell/Cross-Selling Emails
Upselling refers to convincing a customer to purchase a higher-value item, while cross-selling is the recommendation of a related or complementary product. Email gives you a chance to do a little of both, given that the suggestions are relevant and reasonably priced.
For cross-selling, show only a handful of products at a time to avoid making the offer overwhelming for the customer. Additionally, choose products in a price range appropriate for the customer's purchase history. Several products that complement customers' past purchases can be featured as a bundle or set.
Upselling is based on purchase threshold patterns, and can be paired with discounts, credit, or discounts on shipping. If this doesn't fit your company's sales model well, consider the alternative of advertising tiered pricing for your product/service packages. An upsell/cross-selling email can look like this: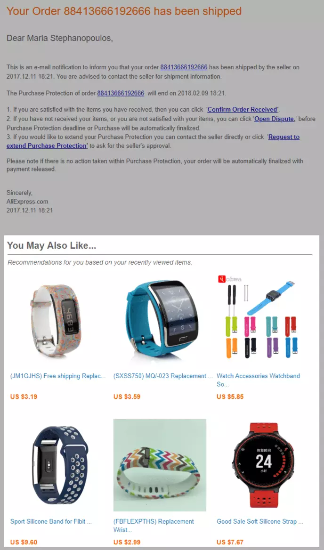 Customer Satisfaction Emails
It is unsurprisingly difficult to give prospects and customers what they need without asking them about it directly. Surveying and feedback makes your recipients feel heard, offers valuable insights into their goals, desires and pain points, and allows you to improve your marketing and sales continuously. Surveys will likely require incentives, like entrances into promotional drawings or discounts off of the customer's next order; rest assured, however, that the benefits will far outweigh the costs. Here's an example customer satisfaction survey email from BarkBox:

Content-Centered Emails
By building education into some of your emails, you will make customers feel like they are receiving an informational care package with their purchase-- which can turn a product into an experience. Content curation is effective because it allows recipients to learn about topics that are relevant to the product and industry without additional cost.
It also holds another advantage for eCommerce marketers: open and click-through rates for content help them to better segment recipients based on interest. Whether through newsletters, blog links, or product use guides accompanying the purchase of a product with any kind of learning curve, educational emails are non-sales oriented, valuable pieces that go the extra step for subscribers.
Email Best Practices and General Tips
What are some tell-tale signs of spam? What prevents you from opening the email? What features make it almost instantaneously destined for the trash bin? Follow these and several other best practices for email marketing to ensure your campaign's success.
Subject Lines
Naturally, the content of your subject lines has a sizable bearing on the email's open rate. Research shows punctuation is unnecessary and capital letters resulted in a reduced engagement (think again of spammy headlines). According to Hubspot, emails that include the recipient's first name in the subject line had a higher clickthrough rate than those emails that didn't and 35% of email recipients opened email based on subject line alone, so feel free to personalize those emails. Plenty of email services let you merge a list of names to personally populate your emails once they're sent. Also, aim for a subject line with 50 characters or less. That way your recipients get the full email subject on their mobile phones.
Content
Provide answers to the 5 w's within the first sentence or two. Odds are if you don't immediately explain the purpose of the email it'll get trashed. Try to get two to three paragraphs of content, including a bulleted list, within the content. The first paragraph, and most important, should be the longest.
Try as well to use clear non-sales-like words. Fulfill your promise in the subject line asap in the content.
Creative CTA
The success of any email lies in the click-through rate. This is the percentage of people who opened the email and followed a call to action embedded within the content, taking the viewer to the initial stage of the buyer's journey. So to do this properly, feature questions as your CTA copy. Studies show questions spike interest and encourage click-throughs. Get colorful as well. Make your CTAs eye-catching but without being over the top.
Testing
A/B testing, also known as split testing, is essential in improving a campaign's performance metrics. To do so, compare the two web page variants by showing them to similar visitors at the same time. You'll get first-hand insight into which format works best with your target audience.
Be sure to adjust your design so it's responsive to different devices as well (mobile, tablets, etc.).
You also need to continually test and optimize your emails to assure they are being delivered, have subject lines that get them opened and finally, that people are clicking through!
The average recipient's attention span is only a few seconds, and you need to grab their interest as effectively as possible in that time. Remember to make use of video and branded imagery; cater to your segments and remember to have some fun with your presentation if you want recipients to make a purchase.
What's Next?
Interested in polishing other aspects of your lead nurturing strategy? Start with the basics! This ECommerce Lead Nurturing Guide will tell you everything you need to know to put together the elements of a killer strategy.