The competition is high for email marketing software due to countless companies entering the playing field each year. As HubSpot continues to dominate the marketing automation space, it's no wonder it has become a competitor to an eCommerce marketing system focused on email and SMS like Klaviyo.
Each company has been around for a long enough time to expand and implement new features, making the platforms completely different from how they functioned before. So how does HubSpot and Klaviyo compare?
Today, we'll take a closer look at these two major names in email marketing automation and compare each platform based on their features, integrations, pricing, and reviews. By understanding the pros and cons of HubSpot and Klaviyo, you'll be able to make a better judgement call on which email marketing automation is best for your company.
What is email marketing software?
Email marketing software is the online technology a business will use to build and send sophisticated emails to a large database. It's more than sending one-off emails from your Gmail or Yahoo email accounts. Email marketing software provides marketers the tools to send strategic emails to their contacts. Each software provider is different, but the majority will provide users with the ability to create email templates, manage and segment their subscribers lists, automate send emails to specific audiences, and analyze the success of each email sent.
As most marketers already know, there's huge ROI in email marketing. Data shows that email will generate $38 for every $1 you spend. The challenge lies in choosing the right email marketing software that will support your company's goals. Not all email marketing platforms are created equally, that's why it's important to compare platform features, integrations, pricing, and overall reviews. HubSpot and Klaviyo have become the top email marketing competitors for many good reasons, but each provide different features.
What is HubSpot?
HubSpot is a big-name, industry leader in the inbound marketing and sales realm. They offer a range of software to help organizations execute inbound marketing strategies, including their Marketing Hub, Sales Hub, Free CRM, Service Hub, and CMS Hub (which was just released in April 2020). The company was founded in 2006, and has evolved from an all-in-one marketing software to now providing technology to support sales and services activities. The platform was originally heavily used by B2B companies, however, all industries have found value in HubSpot's ever-growing platform.
While the company continues to lead the inbound marketing approach, they've developed new ways to help companies grow better, as they would say. From using a funnel, to now pioneering the flywheel methodology, HubSpot continues to help organizations drive business growth.
In addition to their software, they have a ton of free online resources for both HubSpot customers and users looking to learn more about inbound marketing. They've created the HubSpot Academy to offer free online training for professionals and even help customers organize HubSpot User Groups for different communities around the world. As of 2020, HubSpot has 78,700 customers, 248K+ certified professionals on the HubSpot Academy, 150+ HubSpot User Groups around the world, and not to mention 7M+ monthly visits to their HubSpot Blogs.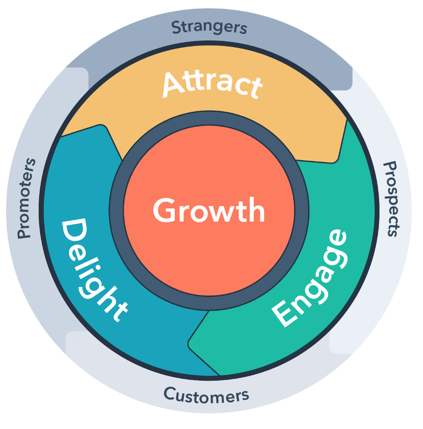 Source: HubSpot
What is Klaviyo?
Klaviyo is a marketing automation platform focused on email marketing and designed for the rapidly growing world of eCommerce. In contrast with HubSpot, the company specializes in one kind of software solution. The company was launched in 2012 and has served both small and large direct to consumer brands to scale their online sales.
Klaviyo positions their business around a Listen, Analyze, and Act framework. They offer a variety of features that share the same goal of helping direct to consumers grow online, including segmentation, email personalization, Facebook advertising, responsive email templates, abandoned cart series, A/B testing abilities, and so much more. They also have one-click integration capabilities, making it easier for businesses to integrate their online stores with Klaviyo, including shops hosted on Shopify, BigCommerce, Magento, Commerce Cloud, and WooCommerce.
Klaviyo has helped a number of eCommerce entrepreneurs grow into iconic brands, such as Chubbies, Blenders Eyewear, and Custom Ink. As of 2020, they have 32,500+ businesses that rely on Klaviyo to support their email marketing automation.
HubSpot vs. Klaviyo Features
As comprehensive and well-designed platforms, both HubSpot and Klaviyo come with similar features essential to email automation. Both softwares have the following features:
WYSIWYG email editor options
Dynamic content and email personalization capabilities
Email templates designed for different campaigns

Lead nurturing email campaign

capabilities
Sending automated and triggered emails based on specified criteria
Components necessary for drip campaigns
A/B testing capabilities for email
Email performance reports, with metrics including delivery, open, bounce, and CTR
Contact database organization and segmentation
CRM lead integration capabilities
CAN SPAM compliance
HubSpot Features
Although both softwares offer similar email capabilities, HubSpot does have a few features over Klaviyo. Their email marketing software is designed to pair easily with their other softwares, such as their CRM, Marketing, Service, CMS, and Sales Hub. This comes with certain features that is difficult to achieve for Klaviyo users, including:
Data quality management
Marketing lead database
Lead scoring and grading using email activity
Event and webinar email marketing
Email campaign planning
Email conversion rate optimization
Customer surveys
KlaVIYo Features
Because it's designed specifically for eCommerce companies, Klaviyo does offer features that are harder to achieve for HubSpot users as well, including:
Comprehensive integration capabilities with eCommerce platforms like Shopify, BigCommerce, Magento, and WooCommerce
Pre-built contact segmentation for browsing behavior, acquisition source, purchase frequency, and purchase size
Built-in abandoned cart email series
Autoresponder emails triggered from customer purchase history
Automatically generated product recommendations in emails
HubSpot Integrations vs. Klaviyo Integrations
As mentioned, HubSpot's internal integration with Marketing, Sales, Services, CMS and the CRM is practically seamless. If you have HubSpot Sales Pro or above, the integration possibilities are even better. You can integrate your lead management system with call and meeting scheduling to trigger email sequences. You can also integrate your sales team's one-off emails they send within Gmail or Outlook, organizing all important contact data into one place.
HubSpot integrates with over 200 softwares in the realm of other CRMs, CMS', video platforms, eCommerce software, automation, social platforms, lead generation tools, live chat options, sales platforms, analytics software, and so much more. The most popular integrations with HubSpot include integrations with SurveyMonkey, Eventbrite, Wistia, Zendesk, Salesforce, and Zapier. HubSpot also provides the ability to create custom integrations using HubSpot's open API.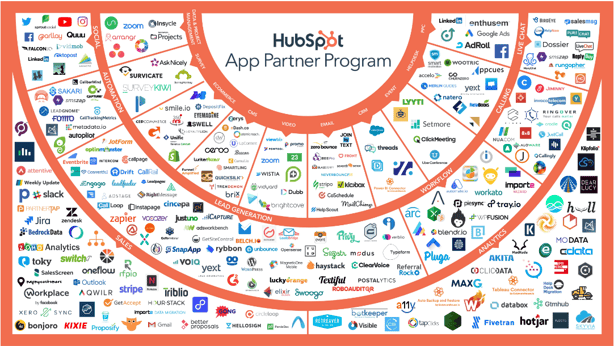 Source: HubSpot
Klaviyo's integrations include all of the major eCommerce platforms, including Shopify, Magento, BigCommerce, Salesforce Commerce Cloud, WooCommerce, and Amazon Marketplace. It also integrates well with smaller eCommerce platforms such as ReCharge, Yotpo, Aftership, and Privy. Klaviyo also has a very handy custom platform integration option through JavaScript. Another useful integration is with Facebook's Custom Audiences, which allows marketers to go beyond email and personalizing Facebook ad experiences.

Source: Klaviyo
HubSpot vs. Klaviyo Pricing
Both platforms offer tier pricing depending on the number of emails you send, the number of contacts you have, and other software features. This helps companies pick and choose certain capabilities based on their unique goals and overall marketing budget.
Klaviyo Pricing
Klaviyo offers a free tier for email, in which you can send a maximum of 500 emails to up to 250 contacts each month. This tier allows you to import and sync data, customize email template, and use other free Klaviyo features.
For companies that have at least 1,000 contacts, this will cost around $30 a month. This pricing includes unlimited email send, as well as email and chat support. If you have about 10,000 contacts, this will cost roughly $150 dollars, and also includes unlimited email sends and email/chat support. If you have 100,000 contacts, this will cost about $1,200 and are limited to sending up to 1M emails a month.
Klaviyo offers a powerful marketing software with very flexible pricing. If you're looking to get a better estimate, Klaviyo offers a pricing calculator on their website that will help you understand costs, features, and even the potential ROI investing in Klaviyo.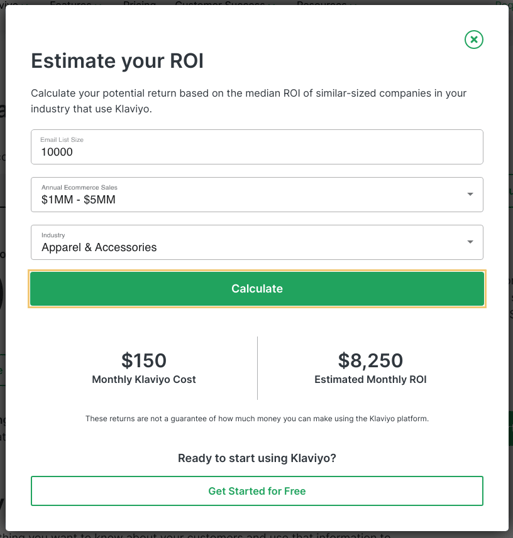 Source: Klaviyo
HubSpot Pricing
HubSpot's pricing will depend on whether you're interested in their Marketing, CRM, Sales, Service, or CMS Hub packages. As far as email capabilities, this can be purchased within the CRM and Marketing Hub package.
The HubSpot CRM, however, is completely free, offering a variety of free Marketing, Sales, and Service tools within this package. Email marketing was actually just added to their suite of free marketing tools in 2019. You can send up to 2,000 emails a month with the free version. The free HubSpot marketing email tool also offers:
A variety of email templates
Has a drag-and-drop email editor
Ensures mobile-optimized emails
Provides post-send analytics to determine how well your email performed
List segmentation capabilities (5 smart list and 25 static lists)
If you have more than 1,000 contacts and looking to send more than 2,000 emails per month, then consider the paid tier options. The paid tiers start at about $50/mo for the Starter Tier, then increase to $800/mo for the Professional Tier, and jump to $3,200/mo for the Enterprise tier.
The HubSpot Starter tier starts at 1,000 contacts, includes all free marketing tools, but also provides features that will help you capture and convert your leads with landing pages, forms, conversational bots ad management, and more.
The HubSpot Professional Tier starts at 1,000 contacts, includes everything within the Starter Tier, but also includes features that will help you automate and personalize your marketing, optimize being found online organically, conversion rate optimization tools, and ways to better measure your traffic and conversions.
The HubSpot Enterprise Tier starts at 10,000 contacts, includes everything in the HubSpot Professional tier, plus features to manage your teams and brands and analyze revenu with multi-touch attribution reports. HubSpot offers a Marketing Hub pricing calculator that can give you an estimate of how much you may spend based on your number of contacts, add-ons, and services.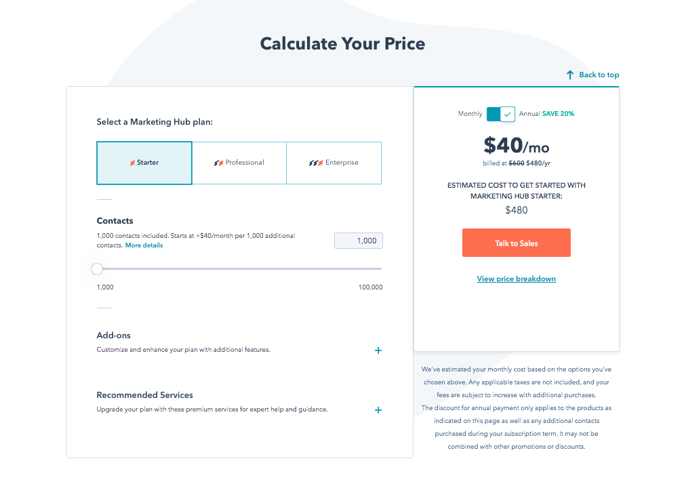 Source: HubSpot
Email Marketing Software Reviews
Both products have received positive scores and plenty of glowing reviews from a number of sources, making the competition all the closer. Klaviyo holds an overall score of 9.4 and user rating of 97%, and HubSpot a score 9.0 with a user rating of 99%, on FinancesOnline. HubSpot received a 4.3/5 on G2 Crowd, while Klaviyo received a 4.6/5. In regards to cost, reviewers rank Klaviyo in the 89th percentile in the Email Marketing category, and HubSpot in the 76th percentile for cost in the Marketing Automation category.
Of course, no product is perfect, and both HubSpot and Klaviyo are tailored to slightly different user bases and industries. So where does each marketing automation software really shine?
HubSpot Pros and Cons
One of HubSpot's main advantages over its competitors is its universality and scope of its marketing software. While Klaviyo's product is closer to a standalone email automation product, HubSpot offers email as just one component of its well-oiled marketing machine. HubSpot's external integrations certainly have a lot of potential, yet their strength lies in its ability to provide the all-in-one inbound marketing package of CRM, Marketing, Sales, Service, and CMS.
It works well for B2B companies, incorporating helpful features to ensure you're following up with leads and prospects. HubSpot's platform is known to be very user-friendly compared to other more complex MAS. If you have questions, they offer timely phone, email, and chat support. They also have a huge catalogue of helpful resources to make sure you're making the most of your platform. So besides the MAS functionalities, HubSpot offers an array of support for customers.
HubSpot, however, has been criticized by some users for requiring a yearly contract and steeper pricing with the growth of your contacts list. A number of customers have also struggled with their website page, landing page, and email template builder called Design Manager. However, HubSpot recently released new drag-and-drop email and landing page editors to make it easier for non-developers to create custom templates. HubSpot was also never deemed a leader in the eCommerce space, however, integrations and agencies (like ourselves!) have found new, creative ways to utilize HubSpot for eCommerce marketing solutions.
Klaviyo Pros and Cons
Klaviyo is a powerhouse in the eCommerce email marketing space. Because they have always been targeted for this specific industry, it has provided more customized and built-out solutions for eCommerce marketers. This includes features such as email attribution reporting, micro-segmentation based on store activities, pre-built abandoned cart automations, and comprehensive integrations with eCommerce platforms. Klaviyo is highly favorable for those in the direct-to-consumer and eCommerce space.
As a less experienced company with a small user network, Klaviyo does lack some of the features and resources which HubSpot has developed over the years. While both companies offer instructional materials and email support, Klaviyo does not have a community forum or phone-based customer service. This has left Klaviyo users to complain about the platform's steeper learning curve and confusing features when first onboarding to the new platform. Some smaller businesses have also claimed Klaviyo pricing to be expensive, but feel the specific functionalities are worth it.
Overall, HubSpot's email automation has proven more success for small to midsize B2B companies, whereas Klaviyo is ideal for smaller eCommerce brands looking to grow quickly.
Choosing An Email Marketing Software
The verdict of this face off... both platforms are solid products with good standing among their competition. They have a generous set of relevant features for anyone interested in email marketing automation. In the the end, the right choice all depends on which software you think will best serve your company's needs both now and moving on into the future. It's very similar to choosing the right eCommerce marketing automation platform, in which you should consider 7 important factors:
User Interface - How simple or overwhelming is the platform's user interface?
Features & Native Integrations - Will this platform support my other existing technologies?
Customer Support - Am I able to contact someone quickly for immediate assistance?
User Base & Reviews - What do long-time users think about the platform?
Pricing - How much will I potentially pay based on my number of contacts?
Set Up & Onboarding - Are there options for assistance in setting up my new platform?
Learning Resources - Does this platform have blogs, videos, or courses to help me make the most of the new software?
Next step, of course, is doing the research. But to make your life easier, we created a side-by-side marketing automation comparison guide that compares HubSpot, Pardot, and Klaviyo based on a number of criteria. Get your MAS Comparison Guide today to get started choosing the right email marketing automation system based on your company's needs.