In any marketing campaign, it is important to understand both sides of the coin- that is, both what to incorporate into your strategy and where all of the potential pitfalls lie. Today, we're going to focus how you can avoid falling victim to bad lead generation practices by being mindful of these 6 all-too-common business-to-business marketing mistakes.
This blog post is part of "Your Definitive Guide to Lead Generation" blog series.
For those who prefer to watch rather than read...
1.Trying to be One-Size-Fits-All

It's true that lead generation is partly about flexibility and being able to cater to a prospect's needs. But it's also a two-way street: the process, much like a first date, is about determining if your companies are a mutually good fit.

Whether the issue is underdeveloped/neglected buyer personas, generic and watered-down content created in an attempt to remain as "open-ended" as possible, or failure to learn from past client experiences, catering to the lowest common denominator just doesn't pay off.

A little pickiness is necessary in marketing! By identifying and targeting the kinds of leads that are actually a good match for your company, you can confidently create more customized content that allows you to stand out to the right businesses.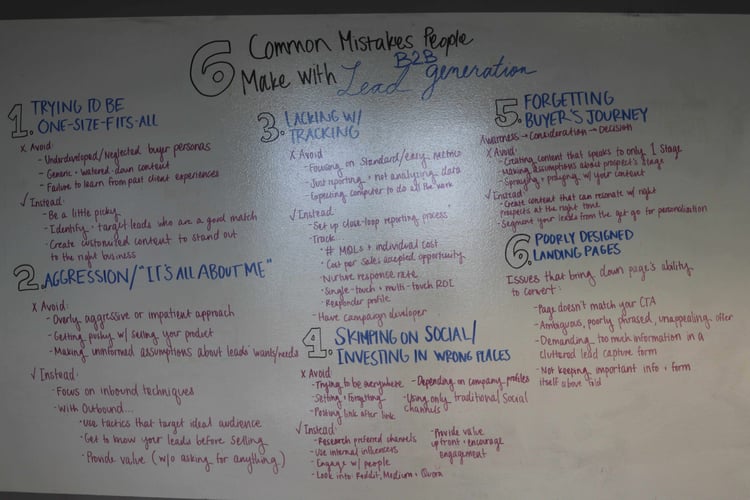 2.Aggression/"It's All About Me"
Another behavioral issue that can seriously impact your lead generation rates involves an overly aggressive-- or, at the very least, impatient-- approach. It is important to recall the virtues of inbound marketing when faced with the admittedly fine line between reaching out to a lead and getting pushy with selling your product.
Inbound marketing tends to be favored by customers because they feel empowered by it. Outbound marketing, meanwhile, is largely interruption-based and runs a higher risk of appearing intrusive to prospects, although it certainly CAN be done well and provide a company with a great amount of exposure, as exemplified by marketing conferences and PPC campaigns.
Ultimately, both kinds of marketing can have a place in a B2B strategy, but your focus should be mainly on inbound. You can easily avoid losing leads by being aware of pitfalls such as overvaluing your own content, making uninformed assumptions about your leads' wants/needs, and generally failing to set S.M.A.R.T goals for your campaign:
Specific

Measurable

Achievable

Realistic

Timely
3.Lacking With Your Tracking
Metrics and analysis are standard in the modern era of marketing, but it's important to track the right things and have results analyzed by a human campaign developer, not simply by a machine. To make your tracking help generate you leads, it needs to go beyond the standard email open and click-through rate features.
This requires a more sophisticated approach that acknowledges the impact of specific campaigns. Several key suggested metrics to track include:
the number of MQLs and their individual cost

cost per sales accepted opportunity

nurture response rate

single-touch and multi-touch ROI

responder profile
Ideally, your company should set up a closed-loop marketing process. For more about how this process works, check out HubSpot's article on closed-loop marketing here.
4.Skimping on Social Media - or Investing in All the Wrong Places
In the 21st century, your social company's media presence is undeniably crucial to marketing success. And simply setting up an empty account or dropping posts every once in a blue moon will do nothing for your marketing campaign; a steady output of information is key.
With this knowledge in hand, some businesses understandably decide that the safest plan of action is simply to cover all bases. So they pour their content out over every outlet they can get their hands on in hopes of maximizing reach, investing hours into crafting Twitter hashtags and configuring Instagram filters.
Here's the inconvenient truth-- not all social media is created equal in the B2B marketing world, and it needs as much researching as any other element of your marketing strategy! For example, did you know that LinkedIn is rated the most effective B2B platform, but 72% of B2B companies also have a presence on YouTube? Instagram, on the other hand, is not very highly rated, so devoting a great deal of attention to it may be a waste of time.
Of course, on top of taking the time to sift through general statistics, it's important to specifically research your leads' preferred platforms in order to create a smart, personalized social media strategy.
Want to know more about selecting the social media platforms best suited for your company? Check out DMN3' article on the topic.
5.Forgetting the Buyer's Journey
Besides organizing leads into personas, your company also needs to create content that accounts for all stages of the buyer's journey. As a refresher, these are:
Awareness

Consideration

Decision
Not all of your prospective leads will be looking for awareness stage content; some will be interested in consideration and decision stage material. A wholesome collection of content should constantly be supplemented to provide plenty of resources to resonate with the right prospects at the right time, allowing you to nurture your leads following the generation process.
6. Poorly Designed Landing Pages
Finally, a landing page can make or break your lead generation strategy. (We have numerous articles on this topic!) Issues that can bring down the page's quality include:
The page offer's failure to reflect what is shown in your CTA

An ambiguous, poorly phrased, or straight up unappealing offer

Demanding too much information in a cluttered lead capture form

Keeping important information and the form itself above the fold (on a top part of the page that doesn't require extensive scrolling)
The Brian Carter Group conducted research which showed that split-testing multiple versions of your landing pages creates 5 times as many leads on average, so experimenting and having more landing pages is not only permissible, but a great idea!
Looking to get started on your lead generation strategy? Get our Intro to Lead Generation guide here and start boosting your generation rates today.
Do you have your own suggestions for what to avoid in a B2B lead generation campaign? Leave us a comment below!