Welcome to Part 2 in our series on Email Testing. In Part 1 of our series, we covered the top 3 things you should be testing and optimizing:
Deliverability

Open Rates

Click-through Rate
Remember, the order of this list is intentional.
If you are having deliverability issues then people don't even have the chance to open your email. And if your emails aren't being opened, then people will never be able to click on what's inside.
We covered how to make sure your emails land safely in your subscriber's mailbox so now we are going to make sure they open it.
Here is how to test and optimize your email open rates.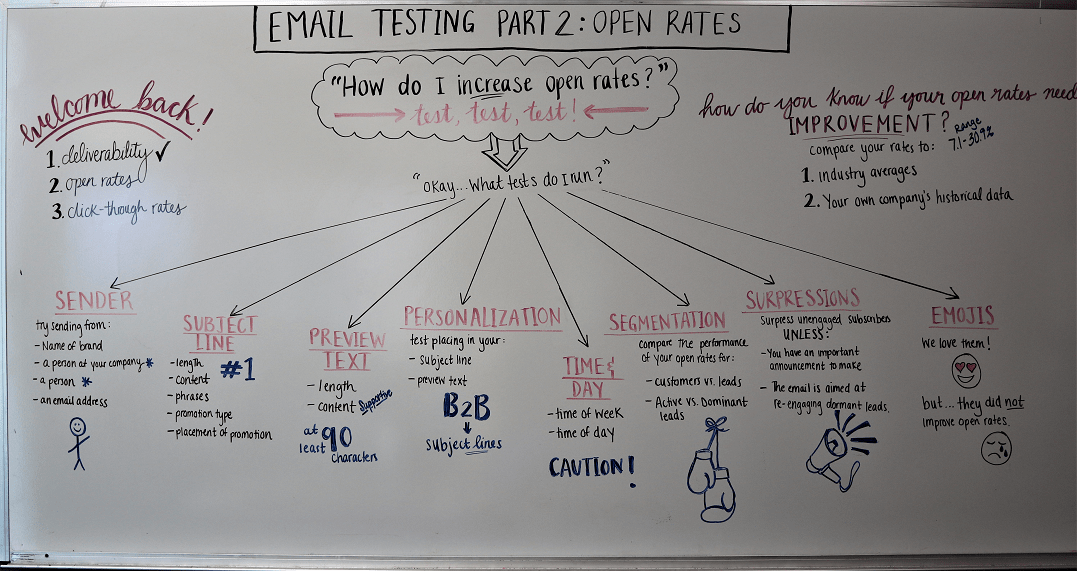 But first...
How Do You Know If Your Open Rates Need Improvement?
In order to figure out if your open rates are in desperate need of optimization you can compare them to:
Industry average open rates

Your company's open rates (historically)
The latest figures show that overall OR's range from 7.1% on the low end to 30.9% on the high end. However, these vary widely by industry. If you are performing significantly below your industry's standard, that is a good indication that your in need of improvement.
If you have historical data available, this is always going to be your best source of comparison. Because even within each industry there exists a range of experience, and each company is unique.
What if you are outperforming your industry or Company Standards?
Although optimizing open rates may not take priority over an aspect of your email strategy that is underperforming, unless your OR is 100%, there is always room for improvement!
How Do You Increase Open Rates?
The most useful and critical method to increase open rates is by constantly "Testing, Testing, Testing". There are so many elements to test that the opportunities for improvement are almost endless.
What Tests Should You Run?
1. Sender
To see which sender your database prefers to receive emails from, you can try sending your email from:
Name of Brand (e.g. Campaign Creators; Apple; Nordstrom)
A person at your company (e.g., Tammy from Campaign Creators; Steve from Apple; John from Nordstrom)
A person (e.g., Tammy; Steve; John)
An email addresses (e.g., info@campaigncreators; products@apple.com; offers@nordstrom.com)
You can also test within your sender options. For example:
Sending from different people at your company: Tammy vs. Sean vs. Bob
Sending from different email addresses: info@ vs. offers@ vs. tammy@
In our experience, emails that come from a person (whether fictional or real) are opened more often than those from a company. Plus, sending from a person helps builds a more personal relationship between your brand and your recipient.
2. Subject Line
If you only have the bandwidth to spend time on one thing on this list - this should be it! Your subject line has the greatest impact on whether your email gets opened or ignored. In fact, recent research shows 47 percent of email recipients quickly decide whether to open or ignore emails based on the subject line alone.
When it comes to subject lines, you can test:
Length (long vs. short)
Content (fluffy/witty vs. straight to the point)
Phrases, such as "Last Chance" or "Ends today".
Promotion type (e.g., % off vs. $ off)
Placement of promotion (front vs. at the end of subject line)
We have found that shorter, to the point subject lines tend to perform better, particularly in the B2B space. You can get away with more witty subject lines in B2C as long as you keep them short.
However, every database is different, so continue testing until you find the magic formula that makes opening your emails irresistible!
3. Preview Text
Preview text is the short summary text that immediately follows the subject line when viewing an email in an inbox. This text is often ignored because it is not displayed in your email's layout. However, the ability to edit this text in many email automation platforms offers another opportunity to optimize the open rate of your emails.
When it comes to preview text you can test:
Length
Content (supportive of vs. reiterating vs. unrelated to subject line)
Testing across our B2B and B2C clients has revealed that content supportive of your subject line, but not exactly the same as the subject line performs best. For example, if your subject line is "Claim an extra 10$ off", then your preview text should be more in-depth information about the product which is 10$ off. For example, "Your next purchase of a 24 pack of dark roast coffee pods just got cheaper." When it comes to length, your preview text should be at least 90 characters.
4. Personalization
If you can add some kind of personalization to an email, whether that is a first name or even company name, you increase the chances of catching the attention of your audience. When it comes to just where to add that personalization token, you can test placing it in your:
Subject line 
Preview text
In our experience, personalization works very well to increase open rates in B2B, where the focus is on building a more intimate relationship between a seller and the buyer. Whereas, we have not witnessed a positive effect of personalization in subject lines for our B2C and eCommerce clients. We have also found personalization to work better in subject lines than in preview text.
5. Time and Day
If you google "when is the best day and time to send email?", you will be flooded with recommendations. But, of all of the items on this list, we have found that the best time and day of the week to send your email to vary the most from one database to the next. For that reason, we caution against blindly following all those "best day and time to send emails" recommendations.
Instead, in order to find the combinations that are best for your subscribers, you should spend a significant amount of time testing:
6. Segmentation
There are numerous ways in which you can slice and dice your database to create unique segments for your email sends. To start, we suggest comparing the performance of your email open rates for:
Customers vs. leads
Active vs. dormant leads
You can probably guess that any given message will resonates with some segments more than others - but the only way to know for sure is to test!
7. Suppressions
Maybe your open rates aren't as bad as you think. Maybe your database is just overrun with unengaged contacts. I covered the importance of keeping your database fresh for deliverability in Part 1 of this series, but it also comes into play for open rates. Perhaps you have a segment of unengaged contacts - they haven't opened one of your emails in a very long time - but their email addresses aren't bouncing so you don't really want to delete them. What do you do?
We suggest suppressing this segment of unengaged subscribers from the majority of your email sends, unless you have a very important announcement to make or the email is specifically aimed at re-engaging these dormant leads. Systems like HubSpot make suppressing sends from this group incredible easy (in fact almost automatic). Other systems may force you to create and update a list of these subscribers manually, but we believe it is worth it.
Why? Your testing and optimization will be focused around the behavior of contacts who are actually engaged with your brand, and most likely to buy.
8. EmojIs
Using emoji in subject lines has been a hot topic in email marketing recently. First let me say - we love emojis! BUT, I am sorry to tell you: in this case they don't work. We have tested a large variety of emoji's, in a variety of places (front of subject line, end of subject line, preview text, etc.), and although they did not decrease deliverability - surprisingly - they also did not improve open rates.
Now, that list should keep you busy for a while! Next up in our series on email testing series: Click through rates.
And if you are looking for ways to build your email subscriber list, check out our Introduction to Lead Generation Guide.
This blog post is part of "Your Definitive Guide to Lead Nurturing" blog series.