As every statistics-scouring marketer knows, email is alive and thriving. Offering an average ROI of $38 for every dollar spent and seen as the most effective channel for revenue generation for B2B and eCommerce marketers, email marketing is one component of a modern marketing strategy you just can't go without.
Choosing the right campaign for your company or as part of your overall eCommerce marketing plan can make or break your success from the start. Today, we'll be taking a closer look at two major kinds of email campaigns - the drip campaign and the nurture campaign - to help you determine which one fits your company's needs best.
What is a Drip Campaign?
Drip marketing is a type of automated campaign focused on email, which allows you to send out a series of scheduled and personalized emails to your contact database over an extended period of time. Generating open rates that are around 80% higher and click-through rates that are three times higher than those of single send emails, drip emails are a worthy investment over blast emails. Whether the goal is nurturing new leads, retaining customers, or increasing company awareness, a drip campaign will help you get there.
DRIP CAMPAIGN EXAMPLES
Top-of-Mind Drips

: Engage with not quite sales-ready leads over a longer period of time through consistent touch points.

Welcome Drips: Introduce new prospects to your company at a comfortable pace. For example:


Re-Engagement Drips

: Targeted toward inactive leads to encourage them to reenter the sales process.

Onboarding Drips

: Provide resources for a client to get started with your company after a close.

Competitive Drips: Focus on differentiating your product/service from that of your competitors.
HOW TO CREATE A DRIP MARKETING CAMPAIGN
Creating a drip marketing model, regardless of whether you're a B2B marketer or an eCommerce marketer, begins with your contacts list. Your contact list should be segmented by demographic and/or behavioral criteria, which can be based on existing buyer personas, or new categories of contacts created for a specific campaign. Then the content itself is fleshed out through a combination of best practice guidelines that apply to general email marketing and more specific ones that apply to your segmented contacts.
Drip emails are based on automation, and there is luckily no shortage of marketing automation tools on the market with features that fit various industries and company types. With the right technology and a strong analytics strategy, your drip campaign can provide maximum value to both your company and your recipients.
SET/IDENTIFY THE GOALS OF YOUR DRIP CAMPAIGN
Your goals can include increasing brand awareness, nurturing new leads, or retaining customers. The more specific the goal, the better, as it will simplify the campaign creation process. Try to determine the nature of your drip campaign.
CREATE QUALITY CONTENT
Educational content should be informative and offers should be appealing; yet the emails should also be visually pleasing, not cluttered with long-winded explanations in chunks of text. The same recommendations that apply to general email marketing should be followed in the development of drip email content. When quality-checking, be sure your emails are:
Valuable

Relevant

Reader-friendly

Have a call-to-action

Optimized for mobile
SEGMENT YOUR MAILING LISTS AND DEFINE TARGET DEMOGRAPHICS
Due to the personalized nature of your email content, it is important that you organize your contacts into subgroups by certain relevant characteristics. It can help to utilize existing personas, or develop ones specific to the email campaign, which touch upon the contacts' attributes, values, and goals.
Make sure to aim your campaign only toward prospects and customers who have actually subscribed to your mailing list, or who have at least established an ongoing relationship with your company. Additionally, an easily accessible opt-out option is a must in every email you send.
TEST AND OPTIMIZE
This will help you determine what is and isn't working in your drip campaign. Focus on metrics like open and click-through rates, unsubscribes, bounces, and conversion rates. Don't be afraid to tweak messages and landing pages by conducting some A/B testing.
What is an email Nurture Campaign?
An email nurture campaign is a series of emails that are sent on the basis of a lead's behavior, which deliver timely, targeted information that helps guide the lead through the buying process. As your prospect receives emails, they are presented with information to help them choose your product.
Specific behavioral data matters in nurture campaigns, for example, how many times a lead visited your website, which articles or guides they've read, and what seminar they registered for. The goal is to deliver educational value to the lead while encouraging engagement with your resources. Unlike drip marketing, the nurture campaign is triggered by these actions, creating an even more personalized sending schedule.
NURTURE CAMPAIGN EXAMPLES
New Customer Campaigns: An opportunity to introduce yourself to potential customers (without being too sales-y) and create a pattern of engagement.
Post-Purchase Campaigns: A way to generate more reviews on your product/service, and a great way to communicate that you care what they think. For example: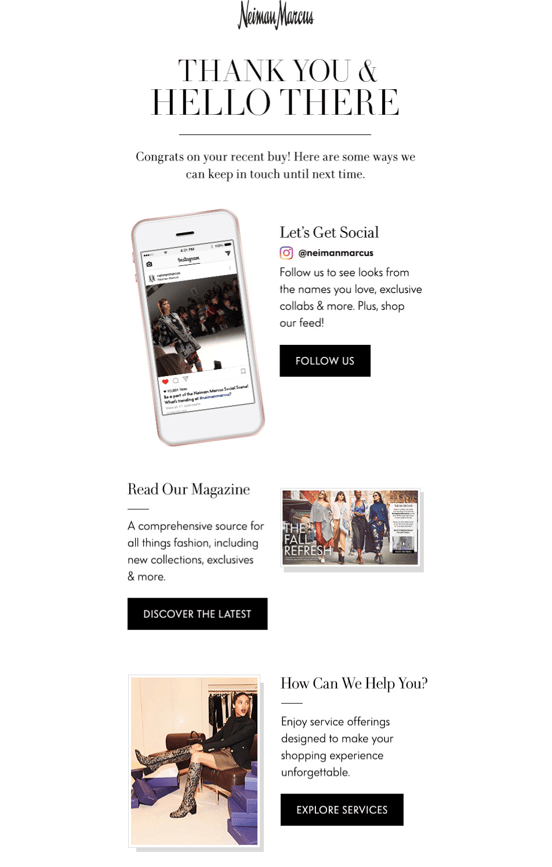 Repeat Customer Campaigns:

A high-value segment of your customers that are likely to advocate for your brand. Structure your emails to make your customers feel like a big shot.

Re-Engagement Campaigns:

For re-engaging at-risk customers. Consider this an opportunity to get back on your customer's radar.
HOW TO CREATE A NURTURE CAMPAIGN
Similar to drip campaigns, lead nurture campaigns require list segmentation, tailored content, and unique calls-to-action. Automation software and features like templates, A/B testing, and scheduling are also all applicable to nurturing emails. The difference is in the understanding of buyer interests through behavior more specifically related to your products and services, allowing you to market more directly.
The same rules apply — providing value, relevance, and palatable content, regardless of the campaign style, is always going to define your email campaign's success. The nurture campaign revolves more closely around your company's sales strategy, which involves the following steps.
1. DETERMINE THE GOAL OF THE CAMPAIGN
To narrow down your goal, cater to your prospective buyers. Identify pain points, target a specific industry or segment, gain customers from more ideal client profiles, and/or increase purchases from existing customers.
2. DETERMINE Your TARGET AUDIENCE
The most critical part of identifying your target audience is understanding buyer personas. Buyer personas are a somewhat fictional representation of your ideal buyer, and are a surefire way to target accurately and efficiently.
3. MAP OUT Your BUYER'S JOURNEY
The buyer's journey is often understood in three stages:
The awareness stage:

Where buyers establish the problem they have, and are researching problem solutions. Ask yourself how buyers would describe their goal/pain point, and how they would educate themselves in order to achieve/resolve it.
The consideration stage:

Once buyers compile a list of solutions to their problem, this stage represents their choosing process. Once a solution is chosen, buyers will select a solution provider. Ask what categories of problem solutions your buyer would weigh, and how they would decide which is right for them.
The decision stage:

The buyer makes a purchasing decision. In this stage, focus on what criteria your buyers use to eliminate and select the best offer for them.
4. Determine the best channel to present your offer
Start with a format, then choose a channel to deliver your content through. Your format could be something like an e-book, workbook, or coupon. You can then deliver your chosen content through email, landing pages, or retargeting ads. Email will be an essential part of your campaign's success, so it's important to spend time on this, which includes optimizing for mobile. Keep in mind there are endless ways to format and communicate your solution, so testing for the most effective medium of distribution is worthwhile.
5. TIME TO AUTOMATE
Finally, tie it all together with automation or workflows. This will link each step of the campaign in succession, and move customers smoothly through the purchase funnel.
It's also handy to set up a preference (or subscription) center, which can provide information to help your company segment its mailing lists and determine your subscribers' preferences in terms of frequency and interest in content. Your email marketing automation software needs to be compatible with your larger CRM system, as cross-referencing of data points will often be needed to guide your campaigns.
How to Know Which Is Right for Your Business
Choosing between drip and nurture campaigns depends on several factors, including your company's strategy, goals, and resources.
Drip marketing should be thought of as a way to save time and resources at the expense of not being able to create highly personalized emails for your users. Drip campaigns are concerned with guiding customers down the sales funnel towards conversion, but don't tend to the buyer's journey.
On the other hand, nurture campaigns are usually more personalized and sent based on a user's activity or their user classification, such as their lifecycle stage. The main focus is to only send specific content, to specific contacts, at a specific time. These type of email campaigns are strategically created with the intention of sending emails only when the user is ready to make a purchase. These tend to be received better by users and can help build stronger relationships.
WHEN TO USE A DRIP CAMPAIGN
Drip campaigns present an advantage to younger companies and less experienced marketers because they are easier to set up, requiring fewer analytics and less investment of resources in general. For example, a typical drip campaign may include a bi-weekly plan for a new product arrival email, or a holiday coupon email.
When you want to focus on more immediate sales, think of drip campaigns.
WHEN TO USE A NURTURE CAMPAIGN
Nurture campaigns keep longer-term goals in their line of sight, and thus tend to require greater planning. However, the potential payoff of nurturing—successfully nurtured relationships with leads-turned-customers—can be well worth it. The nurture campaign may include a plan for an email sent when a lead fills out a form to receive an ebook, followed by an email for a webinar the next time they visit your website, followed by an email offer to sign up for a free consultation sent upon their attendance of the webinar.
Use a nurture campaign when you have the time and resources to monitor the behavior of your leads, and are more relationship-focused.
Lastly, it's important to keep in mind that there doesn't have to be a pick-and-choose situation. Resources allowing, it would actually be recommendable to incorporate both drip and nurture campaigns into your automated email marketing strategy to help promote your business or your online eCommerce shop. The two can pack an even more powerful punch by covering the short term and the long term of your lead nurturing process.
Now, email is only one component of a killer lead nurturing strategy.
Looking for more ways to get started? Check out our Lead Nurture Masterclass to get all of your lead nurturing questions answered and to start nurturing leads like a pro!