So, you're in the market to buy a martech solution for a specific problem. After a quick search, you quickly realize there are over 7000 different companies to choose from. How could this happen? Experts said in 2016 that the number of companies offering martech solutions would shrink drastically because of the defensive consolidation efforts being implemented by the industry's giants.
Two years later the industry shows very few signs of consolidating. If you're interested in why the number of martech companies is still growing, here's what we're talking about...
Infographic
Within a few years, the number of Martech companies expanded from a mere 150 to over 8000. Instead of telling you about how cluttered the martech industry currently is at the moment, we figured a picture would do the best job. You know the saying. We highly recommend checking out this infographic before diving into the articles because it does a great job illustrating the thousands of martech players in the industry.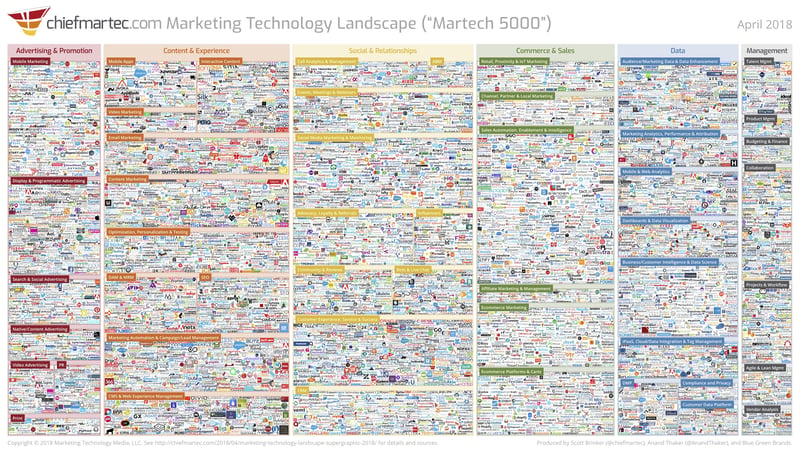 Articles
"The martech landscape has become so fragmented and confusing—in 2016, almost 4,000 companies are part of the martech landscape. Some consolidation could help simplify the space and reduce the overwhelming number of choices for software buyers by combining platforms that offer similar features."
In 2016, Keyplayers such as Salesforce, HubSpot, Oracle and many others implemented a defensive strategy within the world of martech. This defensive strategy was to begin acquiring and consolidating smaller emerging martech companies that could become a threat in the future. After witnessing these corporate giants absorbing company after company, many in the industry believed these actions were going to shrink the number of companies within the martech space. Check out Kelvin Claveria's article to help set the stage of what was happening in 2016.
"Even if a cataclysmic "martech armageddon" wiped out half of the landscape in a single year, there'd still be thousands of martech companies left. And new ones would instantly spring up."
Well, it's 2018 and as you could see from the initial infographic, the number of martech companies is still growing! 2016 predictions were wrong, or at least overly simplified. Take a look at Chiefmartec's analysis on what they call "the myth of martech."
"Martech is always consolidating. Businesses come and go. I've acknowledged many times that the distribution of vendor scale in the martech industry is a long tail — a small number of giant companies at the head and an immense diversity of small ventures stretching far into the tail. Consolidation is what gives us the head of that tail."
We're not trying to say that consolidation within the martech industry is dead. In fact, the former is still very much alive. But the idea that the industry could fold inward on itself to having a few hundred martech companies is unrealistic. Check out Chiefmartec's followup on the article provided above, where they explain how consolidation is occurring but being heavily masked by expansion.
"(Many think) it's bound to consolidate, and soon. And then, thank goodness, we will have a manageable number of marketing software choices.But what if that didn't happen? Before you start sputtering or twitching, hear me out. Because not only is that scenario plausible, it actually could be a good thing."
It may seem that the enormous amount of martech solutions is overwhelming if you're currently searching for a company to fulfill your specific needs. But, the vast amount of diverse solutions available may actually be a positive thing! Having a large space full of different solutions will act in a similar way to the smart phone app industry. With key-players managing a broad scope of services, smaller firms can narrow their focus and specialize within a niche. Check out Scott Brinker's, VP of HubSpot Platform Ecosystem, article to learn more.
Webinar
"Tune in with Nick Ezzo, VP of Demand Gen at Sage Intacct along with Srihari Kumar, Chief Commercial Officer at 6sense, as they discuss the benefits of consolidating your marketing tech stack from several point solutions into one, and the value brought to the table in working with one integrated, consolidated platform."
While the market itself isn't consolidating as much as experts expected, that doesn't mean you can't personally consolidate your stack of martech solutions. By consolidating your own personal stack, you can combine your existing martech solutions which will help organize your tool set and use them more efficiently. Check out this webinar to get started!
So, what can we expect for the future of martech? Will the expansion of new companies continue to mask the consolidation efforts or will we finally see the number of solutions start to shrink? We'll have to wait and see.
Companies using marketing automation see a revenue growth rate that is 3.1% higher than non-users (Aberdeen). Check out our Definitive Guide on Marketing Automation to learn how martech can help you gather and report on data easily, reach customers in a personalized way across multiple channels, ultra-target customers at scale, manage leads and pass them seamlessly from Marketing to Sales, predict customer needs and decision and much more!