Does Video Really Improve Conversion Rates?
Quite a few marketers rant and rave about the importance of video in a modern day marketing strategy-- it brings your brand to life, it humanizes information, it grabs the modern customer's attention like no other format. But all of these claims can lead one to wonder: is there evidence to justify jumping on the bandwagon? Well, let's consider some recent statistics:


And these are just a few of the thousands of research-backed statistics available around the web! For marketers looking to make their conversion rate optimization strategies more well-rounded, video is undoubtedly a great way to go, and a solid place to begin with video channel strategy is your company's website.

That being said, let's examine a few key types of video you need on your site, and some simple tips to keep in mind when creating them.
7 Types of Video you Need
1. Case Studies/Testimonials
According to BigCommerce, 88% of consumers trust online reviews as much as personal recommendations, and 72% of them say that positive reviews and testimonials cause them to trust a business more. It's no secret that social proof is one of the most surefire ways to build rapport with prospective customers, and seeing satisfied clients commenting on their positive experiences on video makes for a strong case.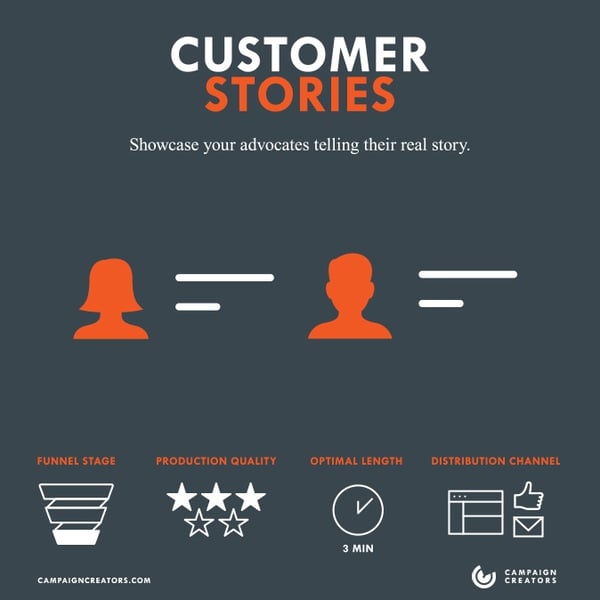 Authenticity is key in this, so resist the temptation to make the video overly "polished" by scripting it or necessarily filming in a studio-like environment. Focus on specific metrics and make the story of of the customer's journey coherent. Instead, prepare your interviewees with the questions that they will be asked and guide them toward covering all of the main points that you would like highlighted in the testimonial. Remember, editing can always be used to declutter the interviews after they are recorded.
2. Product Demos/Tutorials/Webinars
Simply put, a demo is a video representation that details the goals of a business and/or how to accomplish something with its product. Demos are generally around 2 minutes or shorter in length, enough for an efficient marketer to display all of the key information related to the product.
Depending on the quantity and complexity of your products, multiple demo videos may be necessary. In this case, they should be presented as a series, structured and styled in the same way. When prospects watch several in a row to gain a comprehensive understanding, they should be able to easily follow the series.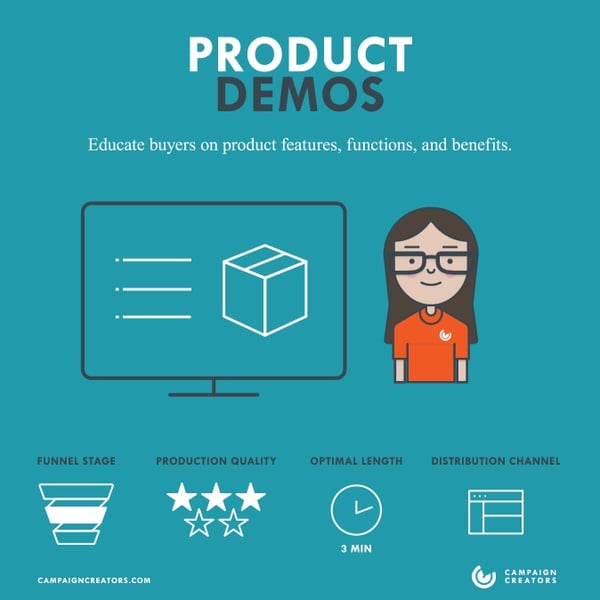 Webinars, meanwhile, provide an excellent platform to host demos (in addition to interviews, question-and-answer sessions, etc.) with an appealing "live" component, adding that much-desired human factor. In some cases, it is even possible to enable live feedback from, and interaction with, the viewers.
3.Explainers
When describing the features of a particular service or product on your site, explainer videos and tutorials are an optimal means of delivering crucial information within 1-2 minutes. Explainer videos may sound similar to product demos, but in fact they differ in several significant ways. Generally, they are actually more affordable, and can bring better results even with low production budgets.
While product demos are more useful for closing sales, explainer videos are used at an early conversion stage, increasing brand awareness in an educational manner and making a product which can initially appear complicated less intimidating. The goal is to show how your product or service solves a problem. They also tend to be paired with text on the page.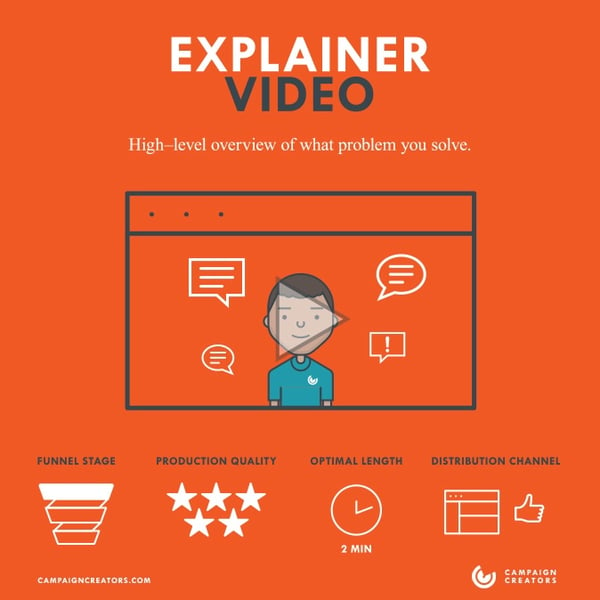 Aside from establishing company credibility and expertise in the area related to your product/service, these videos can address common search queries and site FAQs, serving a double role in CRO and SEO (search engine optimization). Explainer videos offer much more with regards to the number of topics and keywords with just one video.
4. Landing Page Videos
Why beat around the bush when you can bring video to one of the most direct methods of converting prospects-- your landing pages? Adding a video component has been shown to better hold visitors' attention (which is shortening by the year!); text-heavy, longer-form landing pages are out of style.
This doesn't mean, of course, that the video has to be a standalone feature on the page. Some viewers may prefer a written complement to the video, so it is important to try to accommodate all potential preferences by providing a short summary of the points being presented in the video with text. Conversely, the video may serve as the briefer, attention-grabbing introduction and the text as a vehicle for detail. The main point is to reduce total reading time and visually engage the audience.
5. Corporate/Brand/Storytelling Videos
Everybody likes a compelling story, even when it comes to something like a business. And if you think your company doesn't have one that would be interesting or compelling to prospects, think again! An inspired, well-shot corporate or brand video can acquaint your prospects with your company's core values and visions and even emotionally engage them.
The key is to choose an aspect of your products or services with potential for greater impact and purpose. Plenty of great, diverse examples and ideas are available online; animation may offer a way to differentiate the company from the competition in an eye-catching way. You may opt for a tone that is light and fun, or more serious and emotionally earnest. Keep the overall image of the brand top of mind.
6 . "About the Company" Videos
In a digital world, establishing a human image of your company can considerably further prospects' trust and, thus, encourage converting behaviors. For this reason, it is worth investing in a section of your site with at least a couple of videos devoted to the company culture and background, as well as short spotlights for specific members of your team.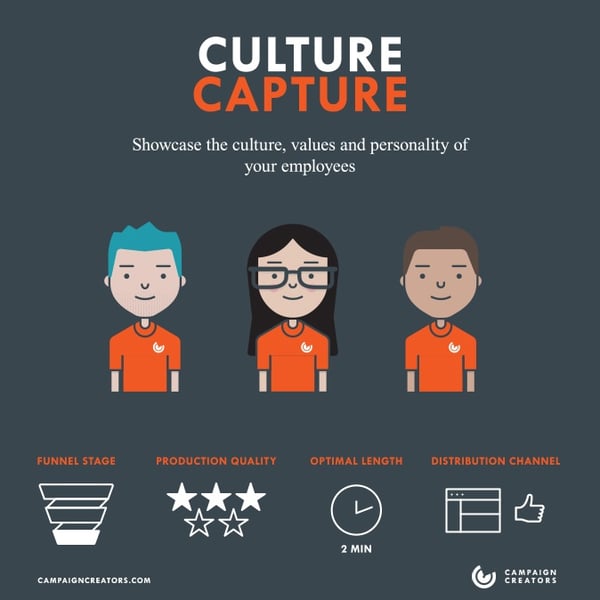 Of all of the types of videos on the list, this one is likely to be low among your priorities, as it does not fit into a particular stage of a marketing strategy as clearly. However, "about us" videos prove impactful enough to add to the video library, and do not need to be lengthy or convoluted in their message, making them relatively uncomplicated to film.
7. Vlogs
Adding a visual component into your stream of written blog content can give viewing rates a significant boost. Creating weekly or monthly vlogs as a series of interrelated various topics could be a good approach to developing a regular audience; they allow for venturing in-depth while relieving the inconvenience of dense blog posts.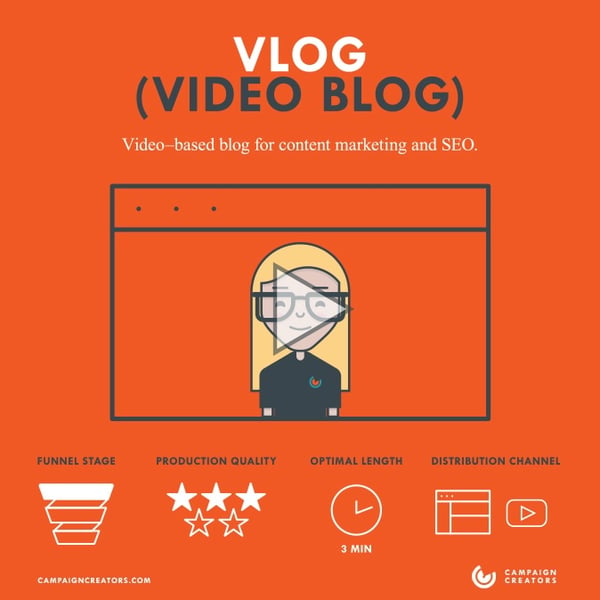 5 Actionable Tips You can Take
1. Value Your Audience's Time
Length is a crucial and often mismanaged component of a video production strategy. Regardless of how much information you'd ideally like to relay in your video, the viewer's attention span must always be taken into consideration. According to HubSpot, videos that are one minute long have an impressive 70% play rate, and 2 minutes is the cutoff time for optimal length.
Of course, length should also vary reasonably depending on the content being presented and the stage of the funnel which the viewer is in. If the conversion is occurring near the top of the funnel, for instance, it may not be realistic to expect them to devote 2 minutes to learning about your product; further down, however, they will be more invested in it.
2. Inform Before They Click "Play"
Titles, tags, and thumbnails can all serve to provide page visitors with a better understanding of the nature of your videos before they even begin playing. The video thumbnail is the first thing they will see, and being selective with it makes a difference; using a custom thumbnail can increase your play rate by 34%!
Incorporating images of people, particularly ones with friendly expressions, for instance, has proven largely effective in comparison with simply filling the thumbnail with informative text or a screenshot at a random timestamp. Tagging and descriptive titling, meanwhile, can enhance the video's SEO and make it easier for prospects to locate on your website. Be as descriptive and specific as possible without being verbose.
3. Put Data to Good Use
As with most great marketing tools, one of the major assets of video is its ability to create a self-supporting feedback loop of information. By tracking and properly analyzing viewership, it's possible to build invaluable lists and score leads, even modifying the nature of segmentation criteria.
The videos themselves can also assessed and improved based on findings, like the timestamps at which viewership drops off or the least watched installments of a product demo series. It is even possible to run A/B testing with different variations of the same video-- for length, CTA, location on your site, and more. The data can then be applied to future video strategy, as well.
4. Invest in Quality (No Breaking the Bank Required)
No, it is not necessary to set aside thousands of dollars in your budget towards professional camera equipment and editing software, but some common sense applies when it comes to establishing a standard of quality for your video library.
Learning a bit about the rules of lighting, editing, and basic cinematography from (often free) resources is worthwhile; that being said, sometimes the only way to stand out is to tactfully break them. There generally should be no need to hire out, but if a video is particularly sophisticated and has high conversion potential (say, an animated brand video), spending more on outside help may pay off well in the long run.
5. Link it Inside and Out
So you've nailed your video and won over the audience, but how else can actionability be added in? With calls-to-action, of course. CTAs can certainly be placed around the video, as in the case of landing pages, but they can also be embedded within it, depending on the player on which your videos are hosted. Linking both internally and externally further strengthens the video's visibility with regards to search results.
Finally, don't forget the additional visibility that a video can gain when shared/uploaded to other platforms, such as YouTube (if your company does not have an account, it may be time to consider making one!). There is no reason that a relevant piece of video content cannot be repurposed outside of your site directly, and incorporated into your social media strategy.
Think that producing videos is too expensive or complicated? Watch our free on-demand webinar, Low Budget Video Production, to learn how to produce effective marketing videos in house, options for purchasing equipment at every budget and tips for lighting, sound, and editing your videos.