Looking for extra help to support your HubSpot activities? Luckily, HubSpot created the Solutions Partner Program to make it easier for customers to find agencies that specialize in HubSpot technology.

But with 4,000+ Solutions Partners, it's no wonder finding the right partner isn't easy. That's why HubSpot created several certifications to recognize partners who have proven expertise in specific fields.
HubSpot developed the Advanced CMS Implementation Certification to recognize partners that specialize in complex CMS migrations, advanced integrations, and custom website development for enterprise-level companies. Recently, HubSpot announced the top 17 partners that have been granted this certification—and we're thrilled that Campaign Creators has been chosen to join this exclusive group.

So why consider working with a partner that has this certification?

In this blog, we'll discuss what this certification is, why it matters to HubSpot users, and why you should consider working with a HubSpot Advanced CMS Implementation Certified Partner.
What is a HubSpot Solutions Partner?
A HubSpot Solutions Partner is a HubSpot accredited business that specializes in helping organizations utilize HubSpot to manage and grow their business. This program consists of agencies and service providers that specialize in the technical implementation of the HubSpot platform. Essentially, this makes it easier for customers to find the right support for their HubSpot technical needs.
Campaign Creators has been a HubSpot Solutions Partner the past 6 years, and we've helped countless clients with onboarding, training, and just making sure new users are maximizing their results with HubSpot.
What is the HubSpot Advanced CMS Implementation Certification?
The Advanced CMS Implementation Certification was designed by HubSpot to find partners who are capable of implementing the CRM, Sales, and CMS tools for larger, more complex teams and enterprise-level systems. Ultimately, this helps HubSpot customers connect with the right partners who have the skills and capabilities to take on advanced CMS migrations, software integrations, and custom website development.

If you're familiar with the HubSpot Academy videos and certifications, well, this is certification is completely different. This multi-step certification process was developed to help HubSpot customers work with the right Solutions Partners that have proven technical expertise.
To become certified, partners needed 5 team members to pass the Sales Software Certification, 3 team members to pass the Sales Enterprise Implementation Certification, and a video interview submission that detailed their experience. Once you completed those steps, you would then present a mock-project project proposal to HubSpot's Senior Website Team.
Specific Skills of HubSpot Advanced CMS Implementation Partners
These partners have several skills, including:
Capabilities to deploy HubSpot Professional and Enterprise-level products across large organizations
Comprehensive experience carefully removing and replacing outdated CRM systems
Can advise on business process mapping and change management across large organizations
What This Means for HubSpot Customers
If you're looking for a HubSpot expert that has proven technical expertise, this group of Advanced Implementation Certified Partners is a great place to start. Especially with over 4,000+ HubSpot Solutions Partners, it can be daunting and time-consuming to find the right group to work with.
Essentially, this rigorous certification process has done all the work of shortlisting the top HubSpot technical experts in the game. This way, you can feel confident you're working with a HubSpot partner that has the technical capabilities to achieve your website goals.
4 Reasons You Should Work with an Advanced CMS Implementation Certified HubSpot Partner
1. You can trust Them with any complex migration or integration needs
Migrating systems isn't easy. But for something so critical to making or breaking your existing technology ecosystem, you'll want to work with experts that can get the job done, the right way.
Whether it's migrating your whole website to the new CMS Hub or moving your existing database to HubSpot's CRM, you'll want to make sure everything is transferred correctly. You don't want to complete a migration and find a broken website or missing data. If you work with an Advanced CMS Implementation Partner, you won't have to worry about any technical issues.
While HubSpot offers a whole marketplace of integrations and apps, these often have limitations. For example, the HubSpot-Shopify integration has been installed 10,000+ times, however, several users have struggled with its limitations.
As a HubSpot Solutions Partners that focuses on eCommerce clients, we've installed this HubSpot-Shopify app for dozens of clients. But this has become just one piece of an entire custom solution we've provided for our eCommerce clients. For example, we helped Wild for Salmon, develop a custom integration solution between their Shopify store and new HubSpot Marketing Hub Platform. This integration helped with several automated campaigns, helping them increase their revenue by $203K in just 3 months!
No matter the challenge you're facing with a migration or integration—Advanced CMS Implementation Certified HubSpot Partners can help.
2. They can support enterprise-level organizations and projects
Enterprise businesses have unique needs, and when it comes to CMS implementation, they need partners who understand how to work with businesses of this scale.
HubSpot designed this rigorous certification process to to specifically identify agencies who already have experience helping large companies with HubSpot.
For example, our team helped Get Air, an indoor trampoline park with 70+ location worldwide, develop a fully custom party booking engine. This solution helped optimize one of their most critical products and increase year over year party booking revenue by 25%.
No matter how large the project may be, you can trust the Advanced CMS Implementation Partners to know how to leverage your HubSpot tools and meet your unique needs.
3. They can make any of your wildest website ideas a reality
Have you ever wanted to implement a new website layout or module, but didn't know how? Whether you don't have the technical skills or the idea was too complicated, working with an Advanced CMS Implementation Partner can make you feel unstoppable.
These partners have the proven technical capabilities to make any of your ideas into a reality, no matter how complex or custom the project may be.
For example, our team helped Caring Senior Service, an in-home care agency, take on the challenge of optimizing their website and ensuring it was ADA compliant. Even though HubSpot's CMS had several limitations when it came to ADA compliance, Campaign Creators figured out technical workarounds to accomplish this goal.
As your organization continues to grow, you want to make sure your website and overall technology is growing with you. Working with these partners will help you do just that.
4. You'll sleep better at night having HubSpot's top technical website experts on your team
Whether you're the only person managing your HubSpot platform or have multiple team members in the portal, having Advanced CMS Implementation Partners can help you tackle any technical website issues.
The reality is, websites can break, and sometime you don't have the time or expertise to figure out a solution. By working with this team of partners, they'll be able to quickly identify the issue, diagnose the best solution, and actually take care of all the technical implementation—so that you don't have to.
Why Campaign Creators Is the Go-to HubSpot Advanced Implementation Solutions Partner
Although we've recently been recognized as an Advanced Implementation Solution Partner, we have 10+ years of experience helping with complex website development for large companies.
In addition to our CMS and website expertise, we also specialize in helping companies with lead generation, lead nurturing, conversion rate optimization (CRO). Most companies know how to drive traffic to their site, but many struggle to effectively convert that traffic into customers or sustainable revenue. This is where Campaign Creators' expertise lies—lead nurturing that creates repeat, loyal customers.
Our services have helped brands in both B2B and B2C/eCommerce companies, but our focus now lies in helping eCommerce brands elevate their digital marketing. We use data-driven insights to deliver next-gen eCommerce marketing strategies that drive online revenue.
As a HubSpot Diamond Solutions Partner with 60+ team-wide certifications and leaders of the San Diego Central HubSpot User Group—we have expertise and experience that's hard to find with other HubSpot Solutions Partners.
But don't just take our word for it. Check out what our client have to say...
"We've used Campaign Creators for many marketing needs, including: migrating our website, SEO improvements, re-branding, email marketing campaigns and so much more. This is the go to HubSpot agency! I couldn't be happier with the collaboration and responsiveness to our needs. Great people, great work product. I think you'll get exactly what you're looking for from Campaign Creators."
- Ashton Goodell, Get Air Sports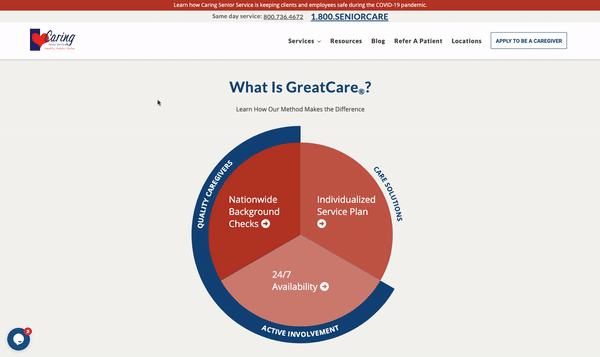 "We have been working with Campaign Creators on a website redesign that's ADA compliant. They worked with us on a schedule that fit our budget and our needs. We have been working together now for about 6 months and plan to use them to redesign another company-owned site as well...We haven't necessarily been the easiest client, but they have met and exceeded expectations every step of the way."
- Alyssa Gisseman Ball, Caring Senior Service
Get Valuable & Honest Feedback On the Best Hubspot Solution for You
Whether you're looking into investing in HubSpot for the first time or need supporting managing your existing platform, we can provide valuable and honest feedback on the best solution for you.
Book a free strategy session with our lead strategist and HubSpot expert. During this session, we'll help you:
Evaluate your current online strategy
Identify your biggest HubSpot & digital marketing gaps
Determine the best HubSpot solution for you
Get your expert opinion today!