What exactly is SEO?
You've heard the term time and time again, but what does SEO or search engine optimization really do?
In short, it's the practice of getting traffic from unpaid or organic search results on search engines like Google or Bing. Using a special algorithm, these search engines crawl sites and spit out content relevant to users online. The closer you get to ranking on the first page, the higher your likelihood of generating a good amount of traffic to your site.
Why Is SEO Important?
If you want a successful website or blog, you'll need qualified leads, and the best way to get these leads is through organic traffic to the site. Especially for eCommerce marketers trying to stand out in a crowded space online, SEO is a critical part of your eCommerce marketing. That's where enforcing a strong SEO plan comes into play. Generating organic traffic is immensely valuable because it's cost-effective, sustainable, and brings in people who are genuinely interested in what you may be providing. According to HubSpot's Ultimate List of Marketing Statistics for 2018, organic SEO proved to be 5.66 times better than paid search ads.
Furthermore, based off of how you want to market to your target, it may be worth looking into local SEO. With local SEO, users get fed the closest and most appropriate results based on their search. For example, people who search for coffee shops, living within the city of Los Angeles, will be provided a list of LA coffee shops based off of a variety of factors including (but not limited to): Google Reviews and Ratings, popularity (clicks to the site) and backlinks (how many other sources are referring to these coffee shops).
Curious to know how you can take full advantage of local SEO? Check out our recent blog post on "Local SEO: Solutions, Tools, and Best Practices" for a detailed overview on how to best approach local SEO tactics.
Search Engine Optimization Tools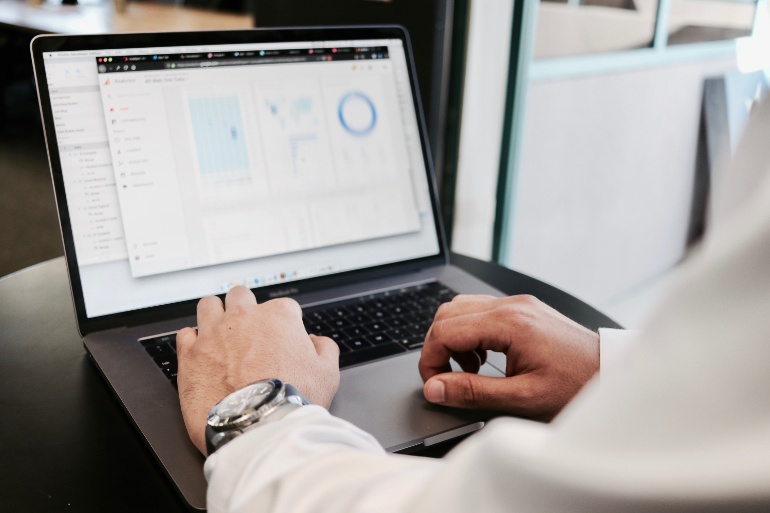 How can you make sure your generated content is getting the maximum exposure it deserves? With so many platforms at your fingertips, it's easy to feel analysis paralysis. Where do you begin and what should you look for? Lucky for you we've rounded up some of our favorite tools to help your organization competitively rank.
HubSpot
If your organization is currently on HubSpot there are quick and easy ways to make sure you are optimizing for SEO on your pages. With HubSpot's SEO Optimizer, you can check if you're following all the recommended protocols for an optimized page or blog post. To start, navigate to the SEO Optimizer by selecting an existing website page, landing page or blog post and clicking the bar graph icon located on the left side pane.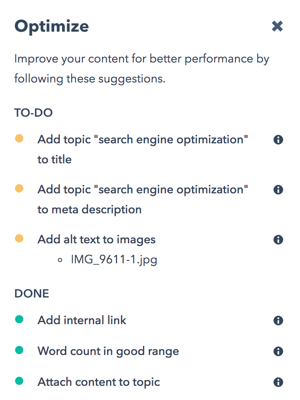 With HubSpot's SEO Optimizer, your content gets scanned for the following items:
Topic
Subtopic phrases
Meta Description
H1 Tag
Call to Action
Alt Text
Quick Page Load
No Broken Links
Title Length
Content Length
& More…
Depending on the content of your post, it's important to then label it accordingly under the correct topic. In HubSpot, a topic is a grouping of your content related to a specific topic. Topics consist of a main topic and a subtopic that supports your main topic. Organizing your content into topics or clusters helps establish authority with Google so your blogs or pages show up more frequently on search engines. For more information on organizing your topics check out this HubSpot article. Once you've selected the core topic, content type, and subtopic it's time to double check all your content is optimized.
One of the main ways Google determines your ranking is based on your meta descriptions, title tags, and H1s. As a good rule of thumb it's important (no matter the platform) that your content is staying within parameters. Use these recommended guidelines when establishing the following metrics:
Meta Descriptions: Aim to keep your meta descriptions between 50 - 300 characters for optimal results.
What is a meta description? A meta description is a snippet -- a tag in HTML – which summarizes a page's content. According to Yoast, Search engines will tend to show the meta description in the search results when the searched-for phrase is within the description. That's why it's so important to keep it short, clear, and concise.


Title Tags: Aim to keep your title tags at around 50-60 characters.
What is a title tag? A title tag is the page title that appears in the search results. It shows up as a blue, bolded and underlined link that, when clicked, takes you to the content.


H1 Tag: Aim to keep your H1 tags between 20 - 70 characters.
What is an H1 tag? An H1 tag is a page's header, usually the title of the post, and is needed so search engines can crawl your content to know what it's about. While all headings (H1-H6) are important for structuring the hierarchy of your page, it's most vital to include an H1.


Keyword Research
To ensure you're optimizing from both a technical and content-driven standpoint, it's good practice to do keyword research. As a business, utilizing popular search related keywords can help ensure eyes are landing your content. Two great tools to do this are kwfinder and ahrefs.
Kwfinder
As advertised on their website, Kwfinder is an easy-to-use keyword research tool that spits out keyword ideas based on search volume and keyword difficulty. Generally, the best kinds of keywords are low in keyword difficulty and high in search volume. These are words that are being highly searched for, but don't have a lot of other sites competing for them. Hunting for these "golden eggs" tend to give you the biggest bang for your buck. On the other hand, if your company has a high domain authority, going after harder keywords may actually be easier for you...and more beneficial. Successfully ranking for difficult keywords help move your page closer to the first page of search results, which means more traffic to your site!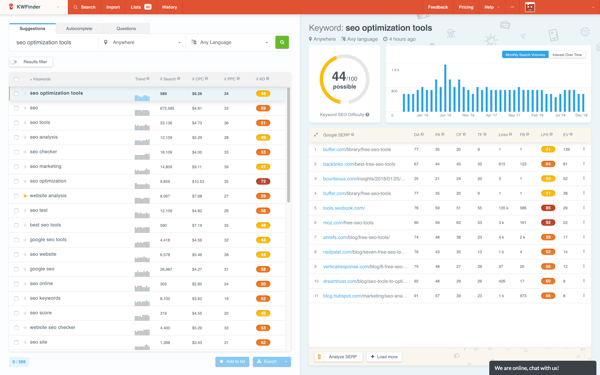 Tip: Utilize long-tail keywords! Long-tail keywords are made up of three or four phrases that are very specific to what you're selling or promoting. Users who are looking to take action on a product or service tend to be more specific in their searches.

Currently, you can access Kwfinder for free, but with limited features. To take full advantage of its data mining possibilities check out their paid plans.
Ahrefs
With Ahrefs, you get access to a variety of features ranging from Competitive Analysis, Keyword Research, Backlink Research, Content Research, Rank Tracking, and Web Monitoring. Aside from analyzing standard keyword difficulty and search volume, Ahrefs reports on some extra metrics worth mentioning:
Clicks: Clicks refer to the average monthly number of clicks on the search results that people make while searching for the target keyword. Some searches generate clicks on multiple results, while others might not end in any clicks at all.
Parent topic: Parent topic determines if you can rank for your target keyword while targeting a more general topic on your page instead
Traffic Potential: Traffic potential shows how much organic search traffic you can possibly get if you rank #1 for the Parent Topic keyword
Global Volume: Global Search volume shows how many times per month, on average, people search for the target keyword across all countries in our database.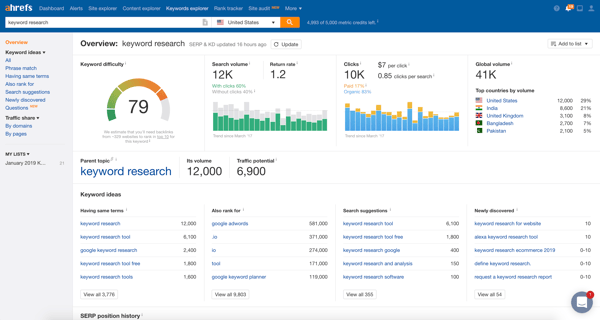 You can start a 7 day trial of Ahrefs for $7 or for a full list of pricing plans click here.


Free Tools
Investing in either of the paid platforms above should yield a great return on your investment, but that doesn't mean you need a paid tool to help you optimize your website. Here are a couple free platforms online you can utilize if you're looking to be budget friendly.
Answer The Public
Say you've chosen a keyword. Have you ever thought of all the prepositions that surround your topic? For example, if we're discussing SEO, what is it that people normally search for? That's what Answer The Public does for you. Based off of how you best interpret data (visually or listed off), it gives you the most popular inquiries about your selected keyword. What this does for you is paint an idea of what aspects of your keyword really resonate on a larger scale.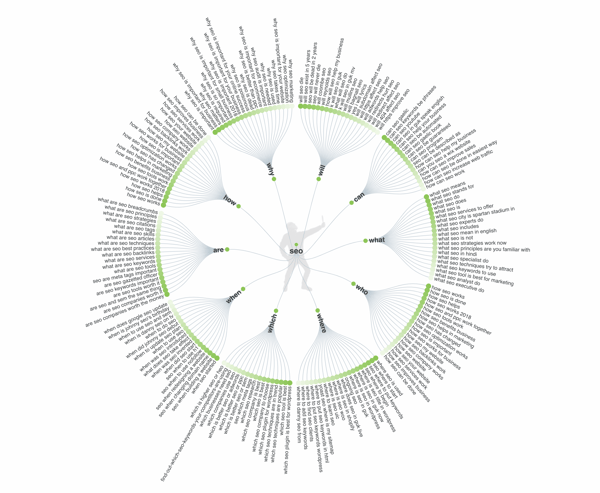 With one chosen topic you can expect to find data on:
Questions: the most popular questions being asked about your chosen keyword
Prepositions: the most popular prepositions including your chosen keyword
Comparisons: suggested keywords to compare with your chosen keyword
Alphabetical: a list of alphabetized inquiries beginning after your chosen keyword
Related: the most popular words related to your chosen keyword
This tool is perfect for developing those long tail keywords beneficial to both you and your potential users. Remember, the more specific your search, the better qualified you'll find your incoming leads. By using the data provided on your keyword, you can then feed it into Google to see if it's something worth going after. Chances are, if there have already been multiple articles on the topic in the last few months, it might be easier to try and rank for a different topic.
Google Search Console
If you want to rank on Google, what better tool to use than one made by Google? While Google's Search Console won't directly suggest keywords for you to rank for, it can give you data on what keywords your organization is already ranking for. This kind of information can then steer you in the direction of producing content that is doing well for you.
To view what queries and what pages are performing the best, navigate to the performance dashboard on the homepage. Based off of clicks, impressions, and your company's average ranking position you can analyze trends in the last three months (or any custom timeline).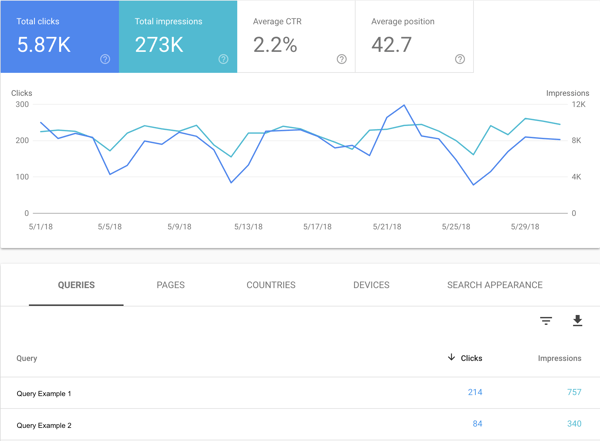 For more information on how to read the performance report on Google Search Console click here.
The Proof is in the Pudding
"The biggest room in the world is room for improvement." - Helmut Schmidt
At Campaign Creators, we know implementing proper SEO tactics is a continuous and iterative process. That's why we've put so much effort into growing our own site organically these last 12 months. We are huge believers in practicing what you preach, so it's only fair to share one of our most successful case studies: ourselves.
With a solid pillar page strategy influenced through keyword research, content auditing, and ongoing technical SEO improvements we have successfully increased our organic traffic sessions by 744%.
By being tactical with our core topics and choosing qualified subtopics that our target market was searching for we were able to drive in not only more leads, but better leads.
If you're interested in learning more about lead generation or how to launch a campaign, check out our Definitive Guide to Lead Generation or download our ECommerce Marketing: Intro to Lead Generation guide.