Successful eCommerce marketing involves understanding where your target market is located and using insights about them to your advantage. It is imperative to understand the concepts that power local and location-based marketing are not as alike as we think.
It's essential to know the difference between local and location-based eCommerce marketing campaign in order to utilize both effectively.
What is Local Marketing?
Local marketing is also known as neighborhood marketing or local store marketing. It targets nearby consumers as part of the local community around the business and directs them to its website or social. It involves reaching out to an audience within a few miles radius of your business.
Traditionally done through billboards, directing weary travelers to motels for the night for example, it's now done both offline and online. Customers are targeted through ads placed strategically on news and business websites or search engines. It can also be done through a business's local listings on Facebook or Google.
Small businesses can use local marketing to promote a local event they're hosting, or telling people they're sponsoring a local sports team. They can place online ads that are similar to local newspapers and business websites.
Importance Of Local Marketing
When you start a small business and cater to a local market, no one knows who you are. Local marketing helps build better brand awareness for your business by telling people who you are, both online and offline.
By hosting community events and sponsoring sports teams, you can foster a fruitful relationship with the local community. This helps you get more customers through the door, too. When people see you as a vital member of the community, it strengthens their trust in you as a business.
People like to find the nearest, most convenient place to shop and eat – local marketing helps them find you when they search for options. This allows you to be relevant and timely for their needs. ECommerce businesses that are just starting to find local marketing incredibly useful as it helps foster relationships and builds trust within the community while generating increased sales.
Strategies For Local Marketing
Implementing some local marketing strategies would help eCommerce businesses reap the benefits mentioned above. Here they are.
Local and On-Page SEO
Local search is a potent tool for eCommerce businesses as it helps 80% of consumers find what they're looking for.
When people search for businesses locally, they're looking for instant solutions and to make a purchase. Local searches have what's called "local intent" making it location-specific; for example, someone might search "auto dealerships in [location]."
Local SEO is important because search engines like Google are smart enough to know if users want a business suggestion or lists of businesses. They show local search results based on the query typed by the user.
On-Page SEO and local SEO involve optimizing the URL, meta-description, title tags, and the body of the content you have on your site to include location-based long and short keywords used by your target audience. Any links used should be relevant and valuable for those that click on them and read.
Optimizing Your Google And Facebook Listings
Listing your business on Google 'My Business' and Facebook pleases the search engine and social media giants. They feed information to several places, including Google Maps, the local 'pack' of search results displayed when a user searches for their options.
Most importantly, it pops up in the knowledge panel, a separate info box for when people search for you by name. This is where you should include local SEO optimized information about your services, contact details, business category, business hours, and a crisp description of your business.
Make sure all of the information is up-to-date and accurate, so it appears in more places, appealing users to click through to your website. Google My Business attributes, Q&As, and reviews are all created by users who interact with your listing, so make sure it counts.
NAP – Name, Address And Phone Number
These are called citations, and this information appears together, either on your business listing, directory, or review sites where you've registered. This is especially important for local SEO, appearing in places where people are searching for businesses similar to yours - in the same niche. If you're not there, competitors will be, and they'll take away your market share.
When you're setting up your social media pages and directories, you should make sure the spelling, numbers, and spaces are the same to ensure consistency. If you're not being consistent with citations across different channels, your search engine rankings and discoverability are likely going to be affected negatively.
Local Business Directory Registrations
Local business directories and yellow pages help relevant users from your target market discover your business. It allows your website to appear in category-specific searches by interested visitors, which means it creates greater visibility for your business online.
Including your name in a local business directory helps get greater exposure for your business because of a large number of people using them.
Event Marketing – Community Event Sponsorships
Organizing and sponsoring events like hosting little league sports championships allows you to get the word out about yourself and leverage networking opportunities with your audiences. Hence, they know you on a personal level, making you more approachable and, therefore, business-friendly.
Cross-Promoting With Other Businesses
Two minds are better than one, and collaborative partnerships with related businesses can help you grow your business. It's a great local marketing strategy where influencers, other companies, and non-profit organizations can help you reach a greater audience.
For instance, a restaurant may find it helpful to integrate with a food delivery business like UberEATS or GrubHub for the sake of convenience to your customers.
If you're collaborating with another business, you can pool resources to create awareness campaigns and organize events that couldn't have been possible otherwise. Do your research first, however, so that you don't end up harming your business or engage with a direct competitor.
Becoming Experience Event Hosts
A local marketing strategy would be to offer a workshop addressing your customer's problems, like hosting a Q&A. Create an event for the same social media pages, including Facebook and Instagram, to inform target audiences about your event. You can even send them push notifications directly to their phones.
These experience events give you valuable insights and data about your target audience so you can use them further in location-based eCommerce marketing and SEO strategies.
What is Location-Based Marketing
Location-based marketing, or Geo-location marketing, is different as compared to local marketing because it's more data-driven. It utilizes a mobile device's location so businesses can send customized push notifications about events, discounts and promotions to nearby users.
Here are a few essential concepts and terms to understand what location-based marketing is.
Geo-targeting
Geo-targeting makes use of a visitor's IP address when they're in a geographical region. It's more suitable for broader target regions like cities because IP addresses don't give exact locations.
Geo-fencing
Geo-fencing uses a phone's GPS signal to find out whether someone is in the same neighborhood as a local business. It's much more targeted compared to Geo-targeting, making it more useful for narrower targeting.
Geo-conquesting
Geo-conquesting is used by businesses to lure customers away from the competition using location-based ads. Whenever customers go near the competitor's store, you send discounts and promotional content through push notifications straight to their phone, luring them to your store instead.
Beacon Technology
Beacon technology uses Bluetooth connectivity to get location data from nearby devices. A physical store with an eCommerce website can set up a beacon to inform users even if there's no signal reception.
Proximity Marketing
Proximity marketing is a location-based eCommerce marketing tactic where you target potential customers with personalized ads based on how near their mobile devices are to consumers. This influences their purchase decision positively.
Importance Of Location-Based Marketing
Location-based marketing has many benefits from generating more conversions, loyal customers, higher sales, better segmentation, and greater ROI.
You Get More Sales
With location-based marketing, you're able to attract better customers when they're most interested in buying. By placing your ads in front of them when they're looking to buy, you increase their likelihood of purchase.
Almost 90% of marketers say location-based ads helped them get better engagement, response rates, and grew their customer base. Location-based eCommerce marketing paired with local marketing provides customers with a better overall experience, so they're happy and keep returning.
Better Conversion Rates
Using tactics such as Geo-conquesting and Geo-fencing, it's possible to stop potential customers in their tracks and increase your physical store's foot-fall. When they see a discount or promotional offer for products they need immediately, there's no reason why they won't buy. The immediacy and convenience created by location based-targeting and ads lead to better conversion rates for businesses.
Location-Based Segmentation
Segmentation allows businesses to group customers based on their socioeconomic standing, activities, attributes, and shared interests. The accuracy of location-based data and the ethics of methods used to collect it count towards the overall quality of that data.
It can be used to further streamline for segmentation, to let you determine where a potential customer is, and you can send them a notification with a personalized offer.
Improve Your ROI
Location-based eCommerce marketing involves smart work, more than it does hard work. When marketers collect, analyze, and use location data to customize their promotions to customers, it creates better engagement and conversions, which translates into a return on advertising dollars.
Ideas For Location-Based Marketing
Location-based marketing opens up many opportunities for your online business. But it all depends on whether you get access to the data. A Boxever survey showed that 60% of consumers wanted targeted offers, but 62% of the respondents didn't want the brands to track their location.
You can still use some incentives like cash rewards, loyalty points, and location-based-discounts to get access to customer locations. When you get access, you can use any of the following ideas to generate loyal repeat customers.
Using PPC for Geo-Targeting
Pay-per-click ads are incredibly powerful when combined with location data and customer segmentation. When you're creating ads on social media, you can choose to display PPC ads in a particular geographic area. This reduces the possibility of unwanted clicks and helps increase ROAS (return on ad spend). In this example from WordStream, Geo-targeting is combined with mobile-optimized ads:
Location Tags On Social Posts
You can even target social media posts with your location, showing where the sale or discount is happening. Tagging helps platforms like Twitter, Facebook, or Instagram to use location tags to increase visibility. When users search for products based on location, your posts are displayed front and center with location tags.
You can create user-generated content contests by creating a post and tagging it on social media where the winner gets free discounts or exclusive product giveaways. Just take a look at Buffer and this Geo-tagged image they're using for a contest: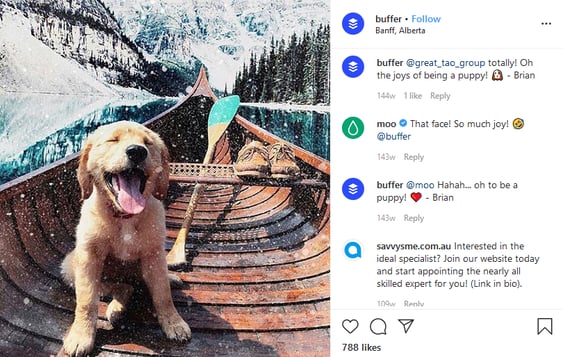 Optimizing Your Site For Mobile Users
A way to leverage location-based marketing is to make your site mobile friendly, using responsive design and making it easy for users to take action. Create an omni-channel experience for users so that they can stay updated with the latest discounts and promotions from your company.
83% of US online shoppers expect regular communication regarding their purchases, so keep them continually updated about what they've bought and what may be of interest to them.
Location-Triggered Notifications
You can choose to send push notifications with the help of Geo-fencing, proximity, and beacon marketing. This allows users to receive information on their phone about your offers when they're near your store or a competitor's.
Starbucks does this by using a happy hour location-based promo with the message, "Today is happy hour 🙌 see you at 2-7pm." Here's an example: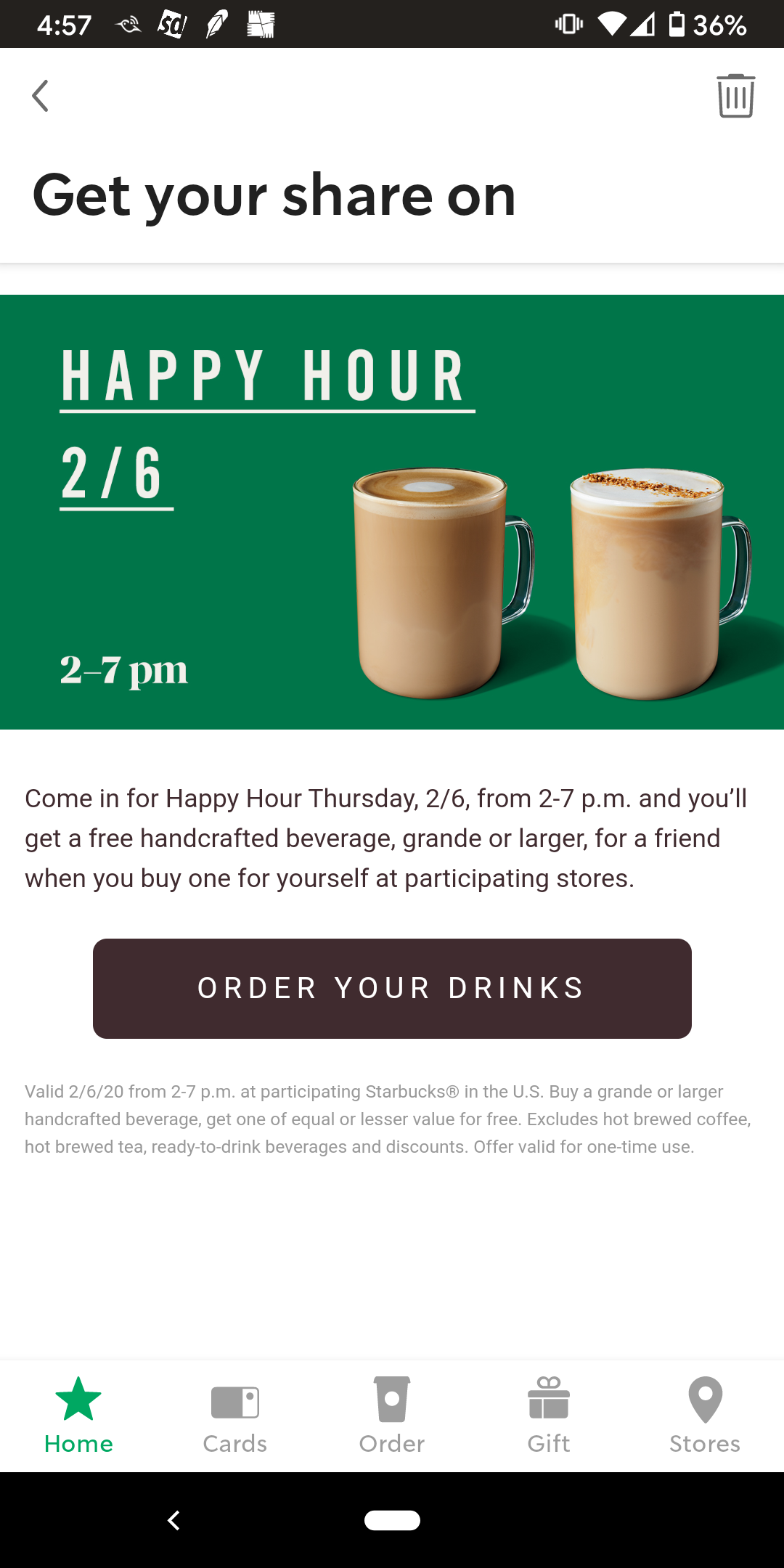 Source: Slickdeals
Creating Rewards Programs
You can also generate reward programs so that when people check-in on social media, they get rewards like free merchandise.
New York Ice cream store Van Leuween uses this by tracking the location users with the PayPal app. When they're near a store, the app sends them notifications about deals and special offers:
Source: Beaconstac
6 Steps For An Effective Local And Location-Based Ecommerce Marketing Campaign
Combining both local and location-based eCommerce marketing practices for a campaign involves several steps that are outlined below.
Step 1: Identify And Set Local Marketing Goals
It's essential to identify what you want to achieve from your location-based marketing efforts. Make sure that these goals are in line with your overarching business objectives.
You may want to create awareness about your eCommerce business, create loyalty among existing customers or get new ones – other lofty goals include increasing business revenues, building your brand, or improve local SEO for higher conversions and engagement.
Identify your long-term goals before proceeding to find out who your target audience is.
Step 2: Target Your Audience
You need to have a fair idea of who your ideal customer is: their demographics, shopping preferences, interests, buying behaviors, etc. If you're starting, look at how customers interact with your competitors – look at what reviews they leave on their websites and social media. Find out what products they want and what kind of promotional offers they're interested in.
Online surveys and focus groups also provide insights into their buying behavior to create a customer avatar. This way, you know precisely how to grab their attention and provide value to them.
Step 3: Focus On Specific Locations
Next, find out which social media they use and where they're located. For instance, when customers visit your website and leave, you can use email reminders, push notifications, and location-targeted ads informing them about special discounts.
Step 4: Message Personalization
Next, you need to personalize your messages in social media ads, blog posts, and other online communications based on your audience's interests.
Surprisingly, 42% of consumers feel marketing communications sent to them on mobile are irrelevant, but that's what happens without personalizing your offering and message.
The content in your ad needs to provide educational or entertainment value. Whether it's about new products, rewards programs, or other promotions, you should be more specific. Don't copy off others or overdo it with multiple messages.
Step 5: Local Event And Time Considerations
If there's a shopping event coming up, such as Black Friday, you can start offering discounts whenever potential customers are in a specific area, close to competitors. This may not always work because of the influx of different promotional messages from other locations.
Some specific times and dates are even necessary, like customer birthdays, mother's day, or valentine's day. Providing unique offers and promotions on these days to customers shows that you care.
Step 6: Encourage And Leverage User Generated Content
Social media can be leveraged to create contests, rewards for check-ins, as well as promote reviews and testimonials. People trust what others have to say more than direct communication from a company, and reviews provide just that. Even reviews on your website regarding your service level, quality of products, and more can instill trust in your business.
Ready to learn how to start generating new leads and customers from your location based marketing strategies? Get your ECommerce Marketing: Intro to Lead Generation guide and learn how to reach consumers in today's digital world now!