Banking on companies moving away from several point solutions and towards a more connected stack of tools, HubSpot has declared themselves the 'modern growth stack' for mid-size organizations. With the focus on creating a tighter, more connected HubSpot, they made the following product update announcements at Inbound 2016 (and we were there to witness them!):
This blog post is part of "Your Definitive Guide to Marketing Automation" blog series.
Visual Workflows
Whiteboarding your workflows may be a thing of the past with the rebuilt workflow editor. This new visual interface allows you to see a holistic view of your entire workflow, or zoom-in on your individual branches to inform optimization decisions. You can request early access to this feature here.
Reporting Improvements
A new web analytics dashboard, available soon to Basic, Pro and Enterprise customers, brings your most critical top-of-the-funnel metrics seamlessly into HubSpot. You can now assess the health of your website from one easy-to-use interface. Stay up to date on this launch here.
Composer
If you've been using another collaboration tool for content creation (i.e. GoogleDocs, Dropbox, GatherContent) and then importing the final product into HubSpot, then you will be excited about this one. You can now easily comment and collaborate with your team, or anyone else, on content from within the Composer. This will definitely streamline the blogging and content creation experience. You can try out Composer now here.
Projects
HubSpot has gotten into the project management game with their new in-app productivity tool, aptly named Projects. The tool also features pre-built project templates and is available right now in your marketing portal, so start assigning those tasks! For help getting started go here.
Unified Mobile App
Finally…all the best parts of the HubSpot CRM, Sales and Marketing apps have been combined into one unified HubSpot Mobile Experience. You can view the full cycle of your contacts from the time they enter your system as a lead to when they are entered as a deal. You can grab the new app from the App Store now.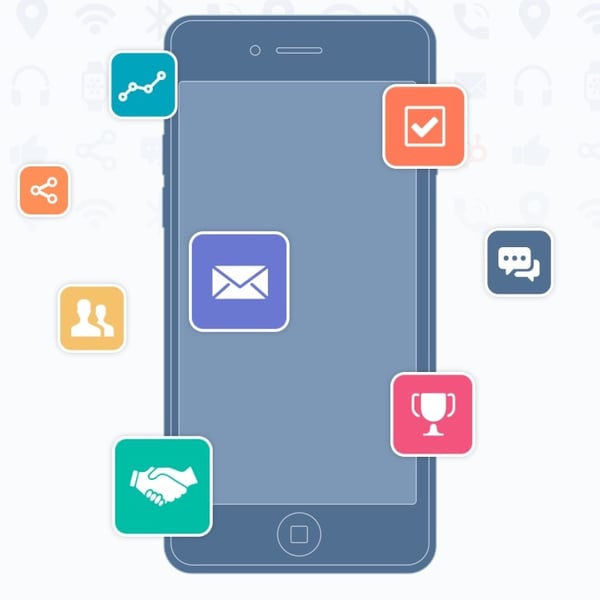 Meetings
Sayanara GoToMeeting! HubSpot Sales makes setting up meetings with customers simple with their new feature - Meetings. Meetings even syncs with your Google or Office 365 calendar so you can share your most up to date availability via email, or even smack dab in the middle of your website. Unfortunately this is only available if you have HubSpot Sales Pro – but maybe it's time for an upgrade. Plus you can save a few bucks canceling subscriptions to those inferior meeting apps. You can learn more about Meetings here.
Messages
We all know the importance of hitting the right people with the right message at the right time. To help you meet this objectiveHubSpot's CRM is rolling out Messages. If you have HubSpot Sales Pro, by Q1 of 2017 you will be able to chat with site visitors in real time! Even better, your conversations are automatically synced back to the contact's timeline in HubSpot CRM - instant organization.
LinkedIn Sales Navigator Integration
If you're using LinkedIn to target prospects and leads, and who isn't?, by 2017 you will be doing this without opening a new browser window. HubSpot was named one of LinkedIn's CRM partners (I guess that's a big deal) and in turn the LinkedIn Sales Navigator has been integrated into HubSpot CRM.
Facebook Ads
Another partnership was announced this year – this one with Facebook. As soon as Q1 of the New Year, Facebook Ads will be controlled directly from within HubSpot where you can link them directly to your inbound campaign – PPC departments everywhere rejoice! You can request access to the beta here.
Interested in setting up a Facebook lead ad? Find out more in this article.
Deal ROI
As marketers we are constantly struggling to prove our department's ROI. And Ad ROI is no different. It can be difficult to truly assess whether your ads are having a true impact on your bottom line. With data HubSpot has access to in the deals of CRMs connected to HubSpot, they are now able to provide the exact ROI for your ads campaigns. Request a free trial of HubSpot Ads here.
Collect
Collect is the wiki of HubSpot. Using Collect anyone on your team can save, research and publish content they find across the web. Now you finally have somewhere to write that idea down that came to you in the shower. The hope is that this makes it easier for your team to come together on big ideas and turn them into reality.
Content Strategy Tool
Content is still king, but the field is crowded. So HubSpot's new Content Strategy Tool promises to help you emerge from the crowd with content that generates results. The tool helps you discover topics to go after based on relevance, competition and popularity. Then before you even put pen to paper (or hand to keyboard), the tool analyzes the topic for its ability to generate traffic and leads. Finally, the the tool measures the overall topic clusters to help you prioritize your efforts behind what is working, and abandon those that aren't.
HubDB
If you have a big catalogue of products, or even a long list employees on your team member page, than you have probably been annoyed at some point when updating these pages on your website. HubDB is a database-driven tool that promises to take some of this pain away – we're waiting to see exactly how they accomplish this.
Accelerated Mobile Pages for HubSpot Blog
We have all seen the numbers; mobile viewing of our webpages is increasing and attention spans decreasing. That why HubSpot is focusing on AMP (Accelerated Mobile Pages) within the HubSpot blog tool to improve loading time of your blogs for mobile visitors. Learn more about AMP here.
We promise to keep you posted as we get deeper into actually using these tools including tips, reviews and best practices. What update/launch are you most excited about? Let us know below.
Looking for more help with the HubSpot platform? You can leave the technological heavy lifting to the pros with our technical set-up and hands-on training packages.