It's that time of year again! HubSpot excitedly spoke at Inbound 18 about new product releases, and we're just as pumped here at Campaign Creators. The 2018 product announcement is loaded with new features for all of the HubSpot Platforms.
These features are preluded by HubSpot's shifting away from solely focusing on attracting new customers to also delighting existing customers. Each new integrated product captures holds this goal in mind, adding to the seamless, intuitive feeling that makes using HubSpot such a pleasure - I guess they know a thing or two about customer delight themselves!
Now, let's dive into what's new and see which products can best benefit your company!
For those who prefer to watch rather than read...
Introducing HubSpot Growth Suite
Coming to HubSpot is an all-inclusive package that includes the Marketing, Sales and Service Hubs at a 25% reduced price - the "HubSpot Growth Suite." The Growth Suite is purchasable at any of the three tiers: Starter, Professional or Enterprise, so it is accessible for businesses of any size. This package emphasizes centrality by providing access to all these hubs. For more information about the HubSpot Growth Suite, check it out here!
Introducing HubSpot Video
You all know that at this point video cannot be ignored as it is an integral platform to engage with customers or leads. It is a way to connect with people in a "personal, authentic, and conversational" way. And one product that HubSpot had been lacking natively is now being provided - introducing HubSpot Video. This is probably the thing I am most excited about from this year's updates. We have already been using it's beta version.
The product can be found across the HubSpot platforms (Marketing Hub, Sales Hub and Service Hub) at Professional and Enterprise tiers. You can also find more information about the product here.
Now, let's look at how it applies to each hub:
Marketing Hub
A feature we are especially stoked about at Campaign Creators is how video will be seamlessly integrated into the Marketing Hub. Video files can now be hosted and managed directly in HubSpot, and embedded into your website pages with a single click. Videos will become interactive as in-video CTAs are added to help marketers track the impact of their content with landing page video analytics.
One word: FINALLY!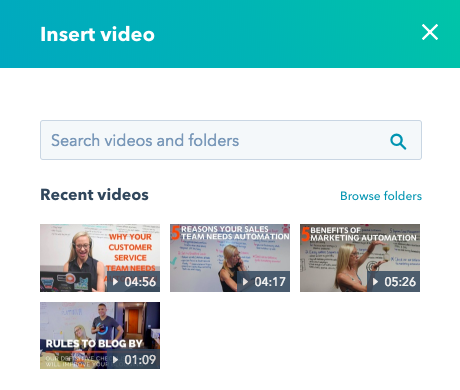 Sales Hub
Video features will be accessible in the Sales Hub too! A user can utilize this new feature to create, share and track personalized videos directly from HubSpot. Your sales team can use the new video features to record their own screen and quickly send videos over to prospects to help connect and build a relationship with them.
Service Hub
Video can be utilized inside the HubSpot's Services Hub in various ways beneficial to a customer's overall experience with a company. These features include the ability to create and share personalized help videos, and agents being able to record their screen to share with a customer to resolve a ticket. Furthermore, videos can now be hosted and embedded in a company's knowledge base - a place where you can turn customers' most frequently asked support questions and tickets into a search optimized knowledge base of help articles and documentation.
Marketing Hub's New Features
As said before, HubSpot announced a plethora of new releases at Inbound18. Most of these product releases are new features associated with each Hub and are only available in Enterprise, which is priced at $2,400 per month. Here, we will look at the many additions HubSpot is making to their Marketing Hub, aimed at providing greater interconnectedness between companies, their teams, and the customer.
Take a look at what's new in the Marketing Hub before we highlight a few features that we find particularly important.
E-Mail Frequency Safeguards - Only available in Enterprise, this feature is beneficial to companies using the automated email service to avoid bombarding leads or customers with messages. There is a fine-line between advertising or promoting content and services through email versus spamming a user's inbox. Worry not though, high priority emails can override the safeguard if needed.
Continuous Testing - Only available in Enterprise, this is another automated feature which HubSpot highlights as key to growing businesses in the future. Marketers will now be able to "automatically and continuously test assets" in its convenient platform.
Custom Bots - Only available in Enterprise, HubSpot is introducing custom bots! The trend of automation takes over, as they will help assist the user with technical requests, like communicating information with a team member or a customer, as well as handling various inquiries.
Updated Reporting and Dashboards - Available in both Pro and Enterprise, HubSpot has created a way for users to build up to 25 custom reports on contacts, companies, deals and engagements, all able to be added to your dashboard.

Sales Hub's New Features
Let's move onto the Sales Hub. Several new features have been introduced to help salespeople and sales teams with their day-to-day work in an automated and operational manner. Here are some we particularly liked:
Playbooks - This new feature in the Sales Hub will help build a library of sales information, where rules-based automation can be used to surface it. You can use playbooks to quickly access lead information, strategy documents, and more.
Call Transcription & Recording - The convenience of having calls transcribed is now available via HubSpot. This is handy for documenting key customer information to build a sales profile around.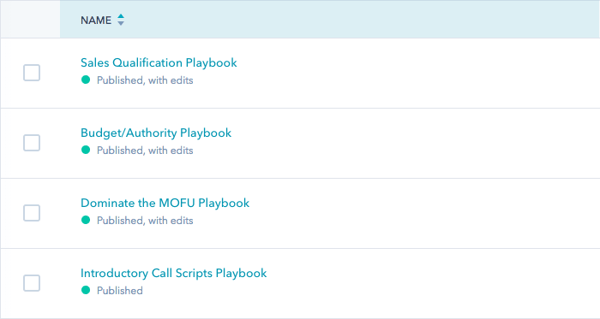 Though these are just a couple of the Sales Hub based product releases, the building of the relationship shared between sales and customer experience is shown to be more important than ever. HubSpot has begun to narrow the scope on how companies can best explore engaging with leads through frictionless products. Sales Hub is priced at $1,200 per month.
Service Hub's New Features
Now, what's been released in the Service Hub? There are a few interesting new add-ons that will help your team begin to specialize how they want to provide support to customers and craft an experience while still maintaining security for customers' data.
Here are a few of those changes:
Health Scoring- This new feature will help users better understand the health of a customer by analyzing reported customer data. If a customer is at risk for churning, a lead needs nurturing, or a happy customer can help promote your business, this feature will help you approach these matters.
Goals - Another feature that lets a business better understand a customer! Goals will allow teams to report on data related to customer goals, such as response and resolution times on support tickets and customer service-related actions.
At the most basic level, these changes aim to improve customer retention and conversion rate by providing excellent customer service opportunity. In addition to these releases, platform wide enterprise features will be available within the Service Hub. This is important, since HubSpot is looking to centralize all the different services it offers into an easy-to-access platform.
Introducing HubSpot CMS
New to HubSpot, HubSpot CMS is the first deeply integrated CMS and CRM combination that offers a quality, personalized experience to your website visitors, priced at $300 per month. The HubSpot CMS offer is unique in that you can purchase it as a standalone product or combined with any of the three hubs. However, the biggest and most exciting opportunity from this offer is it can lead a company toward offering customers new services, such as website redesign or website optimization.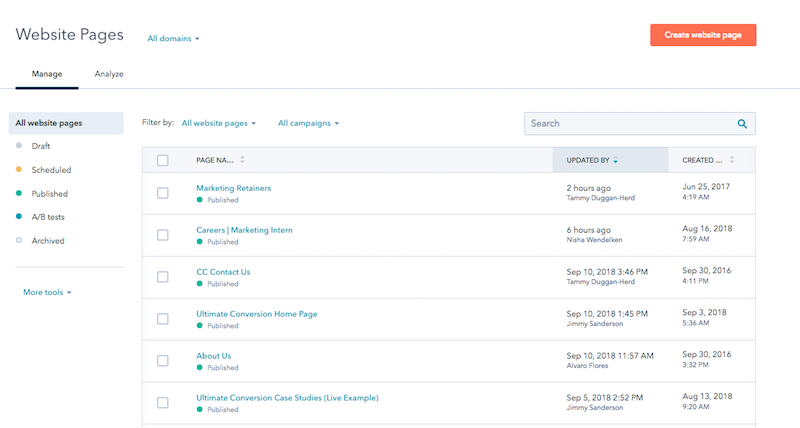 Introducing HubSpot Conversations
Lastly, since May HubSpot has been offering a feature that can connect an entire team together improving both communication within the team and the relationship with the customer. You will be provided free live chat, team email, and chat bots in HubSpot CRM. The chatbot builder will interact with customers and potential leads with basic and custom commands. In large and small teams this is essential for efficiency and high-performance.
If all of these new features haven't made you sure that HubSpot is the right platform for you, check out your HubSpot Vs. Klayvio Comparison Guide and discover more reasons why HubSpot might be the perfect marketing automation platform for you!