If you've been shopping around for a new CRM, you've likely seen the HubSpot CRM as a highly-recommended option. But if you're still curious whether it's the right one for your company, you're not alone.
That's why we've pulled together this comprehensive review of the HubSpot CRM as of 2020. Having nearly a decade of HubSpot experience, we have a lot to say. While we're huge HubSpot advocates, we also understand it's not the best CRM for every company.
Because technology is always evolving, we're here to give you the latest insights into this all-star CRM platform. By the end of this, you'll be able to make a well-informed decision when determining whether the HubSpot CRM is right for you. Let's dive in.
What is a CRM software?
A CRM software is a Customer Relationship Management platform that helps companies manage and track all interactions with its past, current, and potential customers.
Think of an Excel spreadsheet, except way easier to navigate. A CRM system stores contacts and their information that creates a record of their interactions with your company. This can include online activity, past purchases, email exchanges, social media engagement, and more.
Besides helping businesses organize their customer and contact data, having a CRM can help you implement marketing automation, improve your customer retention efforts, provide accurate sales forecasting, and increase customer satisfaction. Having a CRM software will allow your company to create a much more personal experience for each of your customers and buyer personas. This is because a CRM provides sales reps the information they need to truly connect with leads, and close those deals. Essentially, the more organized your contact database, the better you can manage your customer relationships.
Besides the HubSpot CRM, other popular CRM software in 2020 include:
HubSpot CRM Features You Need to Know About
HubSpot's CRM covers all the bases necessary to help your company maintain strong relationships with your customers, no matter what role you're in. Whether you're in sales, marketing, customer service, operations, or responsible for all of the above, the HubSpot CRM will help you get your job done.
Key HubSpot features for sales Reps
A customizable deals dashboard to view your entire sales pipeline
Email tracking, meeting scheduling, live chat, and prospect tracking
Gmail & outlook integration and email templates to help you easily email and communicate with leads
Email notifications, company insights, and pipeline management features that will help you stay on top of all of your leads
Automated logging and updating of customer deals and sales activities
A built-in activity stream with notifications delivered immediately after a lead opens an email, clicks on a link, or downloads an important document
Storage of up to 1 million contact and company records
The ability to record sales calls, send emails, schedule tasks, and assign tasks all within the HubSpot CRM
Automatic publication of emails, recorded calls, and sales notes to a contact's unique timeline, to simplify the task of reviving cold leads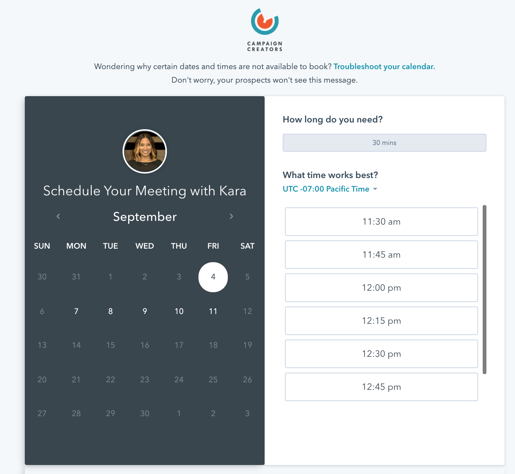 Key features for marketers
Live chatbot to connect with visitors in real time
Ad management features
Forms and landing pages to help you capture new leads
Email marketing and tracking for automated or blast emails
Crucial real-time email metrics, including open rates and click-through rates
A library of email templates designed for every step of your customer's journey
Key features for customer service teams
Live chat tool for immediate customer support
Team email and conversation inbox to keep all conversations organized
Ticketing to help organize and respond to customers quickly
Email templates to improve the efficiency of your team
In-depth tickets closed reports to identify opportunities for improvement
Time-to-close reports to help improve response times for your team
Key features for operations managers
Third-party integration capabilities to easily connect existing software
Providing user-friendly tools to your marketing and sales team
200+ available integrations to connect your technology for free
Reporting dashboard to monitor deals from your sales team
Company insights and built-in reporting to view the metrics you care about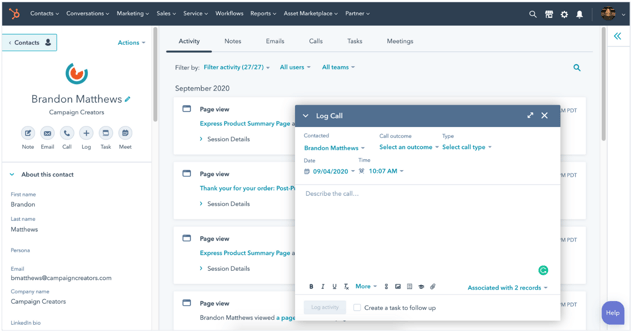 Available HubSpot Integrations
HubSpot's integrations, also known as their HubSpot App Partner Program, is constantly growing. With over 200 integrations, it's no wonder HubSpot's CRM has been ideal for companies with existing technology.
Some of the most popular and successful integrations include the following.
HubSpot ECommerce Integrations
Connecting your online shop to HubSpot has become easier than ever with their eCommerce integrations. HubSpot can easily integrate with Shopify to help you launch automate abandoned cart campaigns, post-purchase campaigns, and even cross-sell email series. HubSpot also integrates with Stripe so you can update your CRM with purchase information from customers.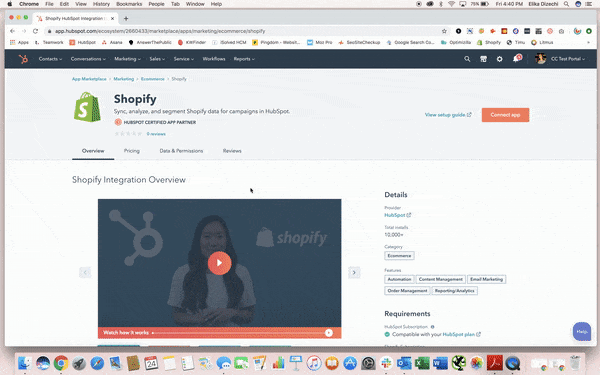 HubSpot Email Integrations
HubSpot's email tools are compatible with Outlook and Gmail. This allows you to log all email conversations in your HubSpot CRM, helping other team members understand the full scope of a customer. You can also access sales templates and sequences all within your inbox.
HubSpot Event Integrations
If you have Eventbrite or GoToWebinar, you're in luck. These event platforms easily integrate with your HubSpot CRM so you can update contacts that registered for an event, attended an event, or even didn't attend an event. This can help with further prospecting or segmented email follow-ups.
Calling Software Integrations
HubSpot easily integrates with Zoom and Uber Conference. Not only can you start meetings or calls within the HubSpot CRM, but the call details will be automatically logged into your CRM under each contact's record.
Social Media Integrations
HubSpot's social media integrations are endless, including platforms like LinkedIn, Twitter, Instagram, and Facebook. These integrations will help you schedule out posts ahead of time and manage multiple promotional activities. The integration also provides insights about your audience, helping marketers and sales teams understand their ideal customers.
Other Popular HubSpot Integrations
There are a variety of other popular HubSpot integrations, including Slack, Zapier, WordPress, and Survey Monkey.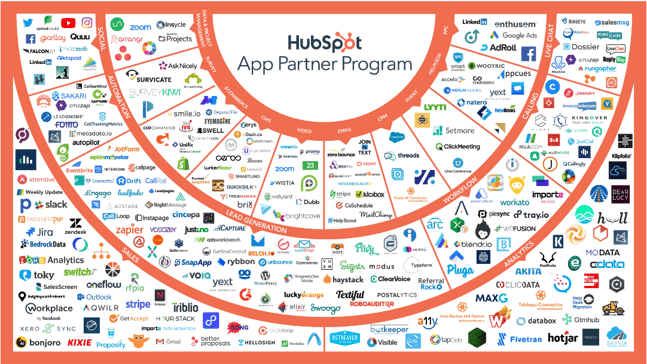 Additionally, the HubSpot CRM is optimal for pairing with HubSpot's Marketing Hub, Sales Hub, Services Hub, and CMS Hub which also comes free in their basic packages. In combination with HubSpot Sales, you can log emails in the CRM automatically, create new contacts from their email client, and view open and click activity on the contact record. When used with HubSpot's Marketing Platform, organization of customer interactions is streamlined across marketing and sales—no more lost leads or contact data! These integrations are recommended both by HubSpot and users of the software.
HubSpot CRM Pricing
The first major advantage of the HubSpot CRM is that it's completely free. While most CRMs come at monthly costs that can stray into the hundreds, HubSpot provides a free CRM that includes a generous bundle of features.
HubSpot's free CRM promises you unlimited users, that your free access will never expire, and that you can store up to 1 million contacts and companies. It also comes with marketing, sales, and services tools that are all free as well.
Free HubSpot Sales Tools
Meeting and email scheduling
Sales email templates
Live chat and conversational bots
Deal pipeline dashboard
Sales reporting dashboard
Free HubSpot Marketing Tools
Email marketing (Just added in 2019)
Forms and landing pages
Contact list segmentation
Customer property creation
Marketing reporting dashboard
Free HubSpot Service Tools
Ticketing features
Conversational bots & live chat
Customer support email templates
Tickets closed and time-to-close reports
Customer support team productivity reports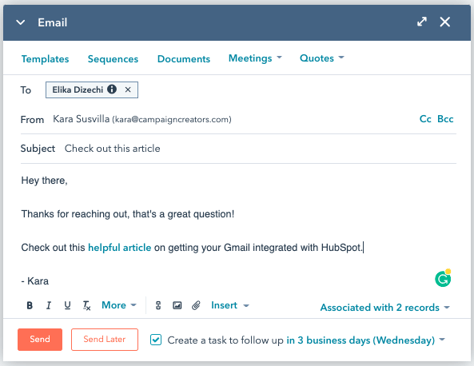 HubSpot's free CRM tools are plenty, but it's important to note that they're limited. Generally, the more customized the feature, the more likely you'll need to upgrade to the paid options.
Need to quickly figure out if HubSpot is right
for you? Get your expert opinion today by
booking your free strategy session.
HubSpot CRM Reviews
As with any CRM platform, the HubSpot CRM software has its pros and cons. As you weigh your different options, it's always helpful to hear from others about their experience with the software.
According to PCMag, they gave the HubSpot CRM a 4/5 rating, claiming that it is one of the more innovative CRM providers. Similarly, TrustRadius gives the HubSpot CRM an 8.3/10 with plenty of HubSpot users providing honest reviews.
An Account Manager at a Biotechnology Company left a review saying:
"It is well-suited when you need something more simple and easy to learn. However, if you are trying to build something more complicated in the developers back-end it can be challenging."
A VP of Customer Success at a Legal Services company claimed:
"I would recommend this CRM for a company that is smaller. The complexity of multiple departments exponentially grows as you add multiple department heads needing more custom information."
As HubSpot users that have been using the platform for nearly a decade, here are the pros and cons we see about the platform.
HubSpot CRM Pros
Very user-friendly and intuitive user interface
Enables strong marketing automation capabilities with contact data
Abilities to create segmented lists for future outreach
Huge value and plenty of features for something that costs zero dollars
Deal pipeline dashboard makes it easy to see overview of all opportunities
Makes inbound sales very easy to manage
Variety of email templates that help sales reps save time and effort
Comprehensive and detailed activity feed of each contact and customer
Ability to update contact information based on HubSpot's own information
Plenty of available integrations – making this easy to set up for a company with existing technologies
HubSpot CRM Cons
Lack of strong reporting capabilities and "hiccups" in the interface
Fewer advanced features that you might see in a top-tier paid CRM
Duplicate contact feature not always accurate
Can accidentally merge contacts if users fill out a form from the save device
Multiple steps required to correctly export data or lists in HubSpot CRM
Not always the best solution for large, enterprise companies
Once your company begins to grow, premium features can become pricey
Fortunately, the HubSpot CRM tool is constantly being fine-tuned and updated, and users report continuing to see positive changes each month.
HubSpot CRM Setup & Support
While the user-friendliness of the software is one of its greatest advantages, the HubSpot CRM setup can still seem a little intimidating given the bundle of features. A user finding themselves in need of help will have a few options available—either they contact HubSpot directly or take their questions to the HubSpot community forum.
Another option is getting assistance or training from someone professionally acquainted with the software—this is where we can help. As a HubSpot Diamond Solutions Partner, holding 80+ HubSpot Certifications team-wide, and leading the San Diego Central HubSpot User Group—we have HubSpot expertise that's hard to find in other agencies. We can provide you the support and technical setup required to get you up and running with HubSpot in no time.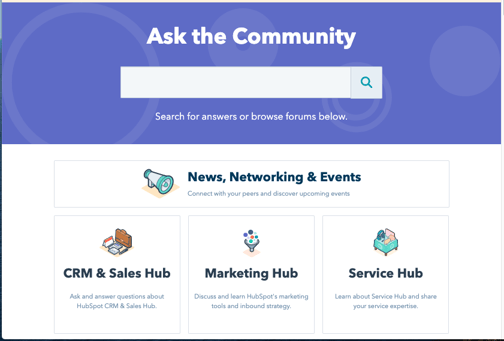 Source: HubSpot
Is the HubSpot CRM Right for You?
When it comes to choosing the CRM that's right for your company, there are a number of criteria to consider. This is because solutions are definitely not one-size-fits-all. Some platforms are better for smaller companies, and others may be better for B2B companies that need to manage deals, so it's best to understand your companies needs and requirements before getting too lost in your CRM research.
We particularly recommend the HubSpot CRM for small businesses, B2B companies looking to integrate their marketing and sales funnels, or eCommerce brands looking for better management of contacts.
It has been touted as an ideal option for companies looking to transition into using a CRM with ease and minimal changes to their existing workflows. As a matter of fact, the HubSpot CRM can easily be set up in 5 days.
In addition, the HubSpot CRM is a certified premier Google partner. Because HubSpot CRM consistently ranks among the best, there's no doubt it should be a platform to consider.
CRM Comparison: HubSpot vs. Salesforce CRM
If you're trying to figure out whether the HubSpot or Salesforce CRM is right for you, you're not alone. Salesforce is a giant in the software world, and their CRM platform is a huge competitor to HubSpot. However, they do have their differences.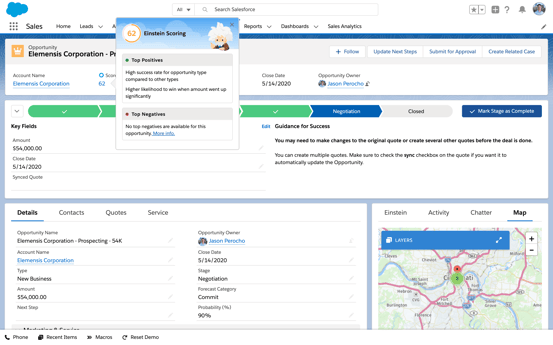 Source: tech.co
As far as pricing, HubSpot's CRM is free, while you have to pay to get the Salesforce CRM. Salesforce has four pricing options ranging from $300 a year to $3,600 a year. The Salesforce CRM does have a 30-day free trial option if you're not ready to fully commit just yet. So as far as pricing, it's clear HubSpot takes the win for this.
Even though Salesforce's CRM is paid, the features have proven to be worth it. HubSpot's CRM comes with a variety of free marketing, sales, and services tools to help your company get started, but sometimes these tools are limited. Salesforce offers robust marketing and sales features including comprehensive social media marketing, B2B marketing automation, customizable lead flows, and more. You can still achieve these features with HubSpot, however, you'll have to upgrade to the paid options.
Due to pricing and capabilities, small businesses find better success with HubSpot's CRM, while mid-market size companies rely on Salesforce CRM. To learn more about the similarities and difference between the HubSpot and Salesforce CRM, PieSync does a great job comparing several elements, including cost, overall features, automation, reporting & analytics, collaboration between company functions, scalability, implementation, integration, and reviews.
But remember, you don't have to choose one or the other. HubSpot does have a HubSpot Salesforce Integration so you can get the best of both worlds. The integration can help you get richer lead intelligence and revenue reporting and close the loop between marketing and sales.
The Verdict
If you're looking for a user-friendly, reputable CRM system that makes for smooth integration and incorporates the no-frills features you need at an affordable price—the HubSpot CRM makes for an excellent candidate.
If you're still not sure whether the HubSpot CRM or other HubSpot platforms are right for you, we can help. Book a free strategy session with us so we can evaluate your current online strategy, identify your biggest marketing gaps, and determine the best solution for you. Get your free expert opinion today.