In February 2017 Mark Zuckerberg, Facebook Co-Founder & CEO proclaimed, "Video is a mega trend" and "[I] wouldn't be surprised if you fast-forward five years and most of the content that people are sharing on a day-to-day basis is video."
This blog post is part of "Your Definitive Guide to Lead Generation" blog series.
What's behind this 'mega-trend'?
It's simple - consumer preference. As Brian Halligan, HubSpot co-founder & CEO, put it, "stop looking for that blogger and start looking for that videographer. 50% of your content mixture shouldn't be text. It should be video. You need to make the shift to where your buyers want to be."
Still not convinced? Here are a few stats:
Traffic from online videos will constitute over 80% of all consumer internet traffic by 2020 (Cisco)
4 times as many consumers would rather watch a video about a product than read about it. (Syndacast)
1 in 4 consumers actually lose interest in a company if it doesn't have video. (Invisia)
59% of executives would rather watch a video than read text
Video is no longer the future of marketing, it's the now. In fact, video was the top-cited disruptor in HubSpot's State of Inbound 2017 Report. Marketers should stop asking 'should I add video?' and start asking, "where should I focus my video strategy?"
Is it Facebook, Snapchat, Instagram, or YouTube – or some magical combination of these channels? There are many ways to approach this question but the goal of this article is to provide you with enough information to make the right decision for your business.
Usage and Growth
The let's start with some cold hard numbers regarding global growth and usage of these platforms.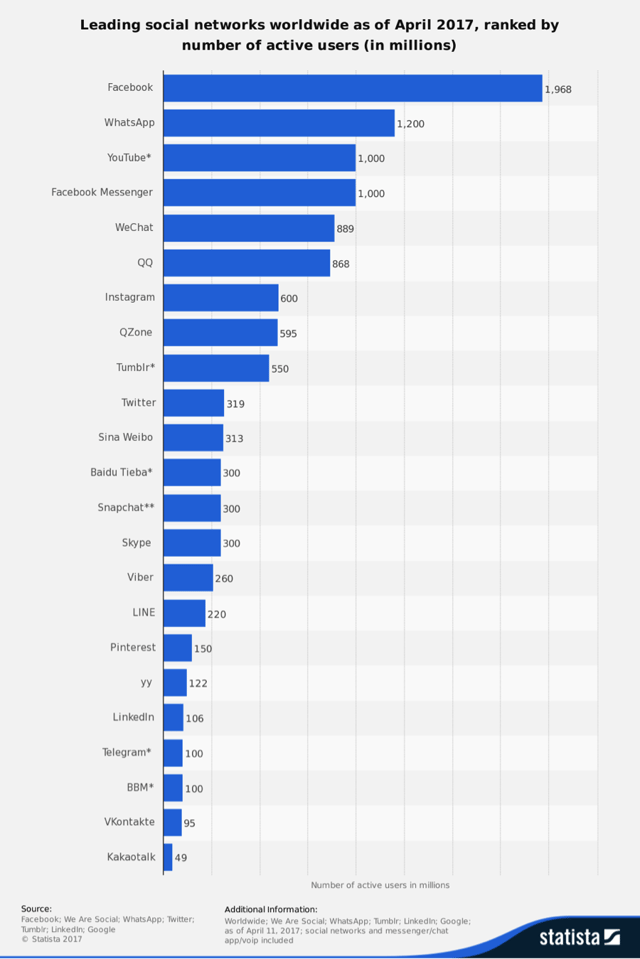 FACEBOOK
As seen in the chart above, Facebook continues its dominance of the field, being the first social network to surpass 1 billion registered accounts and currently sitting at 1.97 billion monthly active users (MAUs), a steady increase of 17% of year-over-year. In Q4 of 2016, Facebook's monthly user count grew a bit slower at 2.58% quarter over quarter from Q3's extremely strong 4.02% growth. It shows Facebook is hitting saturation in some markets but still has room to grow in many developing countries.
Facebook's daily account usage (DAU) hit 1.3 billion in Q1 compared to 1.04 billion in Q4 which was already up 2.97% from Q3. Facebook's DAU to MAU ratio, or stickiness, held firm at 65%. That means users aren't visiting less even as the service ages. As of Q4 2016, Facebook saw 100 million hours of daily video watch time (TechCrunch).
Facebook's video content plays by a distinct set of rules on mobile devices. To learn more, check out this article about optimizing Facebook videos for mobile.
YouTube
YouTube comes in at third on the chart with 1 billion MAUs. It's also important to note that YouTube is the second largest search engine on the planet, falling only behind the almighty Google (which ironically now owns YouTube). There is a remarkable average of 1 billion hours of video content watched daily on the platform (ExpandedRamblings).
Instagram
Seventh-ranked photo-sharing app Instagram has over 600 million monthly active accounts. Instagram's user base has doubled in size from 300 million MAUs to 600 million in only two years.
TechCrunch noted that the platform's growth has actually been accelerating—taking only nine months to grow from 300M to 400M users, and only eight months to grow from 400M to 500M users, then only 6 months to grow from 500 to 600. Instagram's "stories" feature alone has 200M DAUs after being launched less than 1 year ago.
SnapChat
SnapChat ranks 13th on the list with 300 million monthly users and 166 million daily users (as of Q1 2017). As reported by TechCrunch, the platform displayed massive growth in early 2016, with a 14% increase in Q1 over the past quarter. Things got even better in Q2, hitting 143 million daily users - a 17.2 percent growth rate. But on August 2nd, competitor Instagram launched an exact clone of Snapchat Stories at the top of its app resulting in a significant growth slow down.
Snapchat grew just 7 percent in Q3 2016 and in Q4 it sank further with a 3.2 percent growth rate. That means Snapchat was growing at just one-fifth of the speed it was two quarters earlier.
Conclusion
Based on potential video viewing audience alone, Facebook remains the surefire bet for focusing your video strategy. Based on growth, Instagram is extremely promising, and what do you know, it's owned by Facebook.
However, the original video powerhouse YouTube cannot be ignored, especially due to its position as the second most used search engine, and third most used social media channel.
While it's hard to make out a clear winner here, the clear loser is SnapChat whose growth has been unable to recover from Instagram's release of its stories feature.
Marketing Industry Trends
Another way to approach the question of where to focus your video strategy is see what other marketers are planning to do. Here's how the 6,399 professionals surveyed by HubSpot for the State of Inbound 2017 Report responded when asked "what content distribution channels do you plan to add to your marketing efforts in the next 12 months?"
YouTube 48% (no change)
Facebook video 64% (+7%)
Instagram 37% (+7%)
SnapChat 13% (- 3%)
(compared to 2016)
According to the SOI2017 report, marketing teams will continue to attain or increase their presence on YouTube and Facebook video. SnapChat is still a mystery for many businesses, and we see a dip in focus as marketers opt to spend their time on larger emerging channels such as Instagram and messaging apps.
C-level executives indicate a higher preference for expanding across emerging channels such as Instagram and SnapChat than individual contributors. However, across seniority levels, YouTube and FB video remain the top channels for planned expansion.
Conclusion
If you follow your industry counterparts, your video marketing focus will be on YouTube and Facebook video. If you're a gambler, then you'll start experimenting with emerging channels like Instagram and SnapChat.
Get the full State of Inbound 2017 Report for more marketing and sales industry trends and insights.
Now you have a broad stroke view of the video marketing playing field. However, where you focus your strategy should depend predominantly on your audience and your goals – read the next blog in this series Where YOU should focus YOUR video strategy?
Do you live in the San Diego area? Register for our upcoming SDCHUG meetup, Video Marketing with HubSpot, to learn how to use video for every stage of the HubSpot flywheel.