Tremendousness is excellent at exploring and explaining complex ideas, innovations, products, and processes for their clients. But when it came to designing their own homepage, they needed some help.
Tremendousness: Who They Are
Tremendousness is a creative agency that helps organizations explore and explain complex ideas, innovations, products, and processes through a mixture of visual thinking, information design, and storytelling. In short, they design entertaining and emotionally engaging narratives and experiences for a range of clients including Fortune 500s, startups, academia, and more.
Clients often come to Tremendousness with a specific need, such as an infographic or video. However, most are trying to effectively communicate with, and tell a story to, a variety of audiences across multiple mediums, channels, formats, and devices.
This is where Tremendousness's visual storytelling comes into play. They combine information with visual elements to tell a story to their clients' audiences that is impactful and engaging and makes their process, innovative product or ideas understandable and exciting.
Their Challenges
While Tremendousness was excellent at explaining what their clients did, they were having trouble using their website's homepage to explain exactly what they do. They had examples of work on their homepage but gave no reason for a visitor to dig deeper and explore who they are and what exactly they could do for their visitors.
Combine this with zero calls-to-action and no website funneling, Tremendousness gave visitors little reason to actually convert.
This lack of clear explanation of services, calls-to-action, and website funneling led to a few major challenges for Tremendousness. These challenges were:
Visitors not exploring their site;
Visitors not converting into leads; and
0 CTA clicks and a CTA Click % of 0.
As seen by these challenges, although Tremendousness was excellent at designing for their clients, they needed to bring someone on to help them redesign themselves.
The Process: Overcoming These Challenges
There was a 5 step process to tackling these challenges head-on and producing the change Tremendousness wanted to see:
On-boarding and Discovery
Migration to HubSpot
Informational Architecture Creation
Informational Architecture Review
Refining of the Final Homepage
Onboarding and Discovery
The first step we took with Tremendousness, as we do with any client, was taking the time to truly understand what they do, what they want to achieve, and what's holding them back. Through these conversational points, we were able to uncover all the necessary information about:
Tremendousness's

Company;

Tremendousness's

Industry;

Tremendousness's

Buyer Personas;

Tremendousness's

Goals; and

Tremendousness's

Painpoints.
During this On-boarding and Discovery phase is when we learned about Tremendousness's biggest problems which, as stated above, were no calls-to-action, no funneling, and the fact that all of their conversions actually only came from newsletter subscriptions.
Migration to HubSpot
After Tremendousness on-boarded with Campaign Creators, the first thing we did was migrate them from Wordpress to HubSpot. We migrated them over because we believed that HubSpot's website hosting was the best option for their homepage redesign, to achieve their goals and to track their data to make continuous adjustments and improvements.
You can see the design of their original header and footer, as well as their original homepage with an updated header and footer from when they first migrated to HubSpot below.
Original header and footer


Original homepage with updated header and footer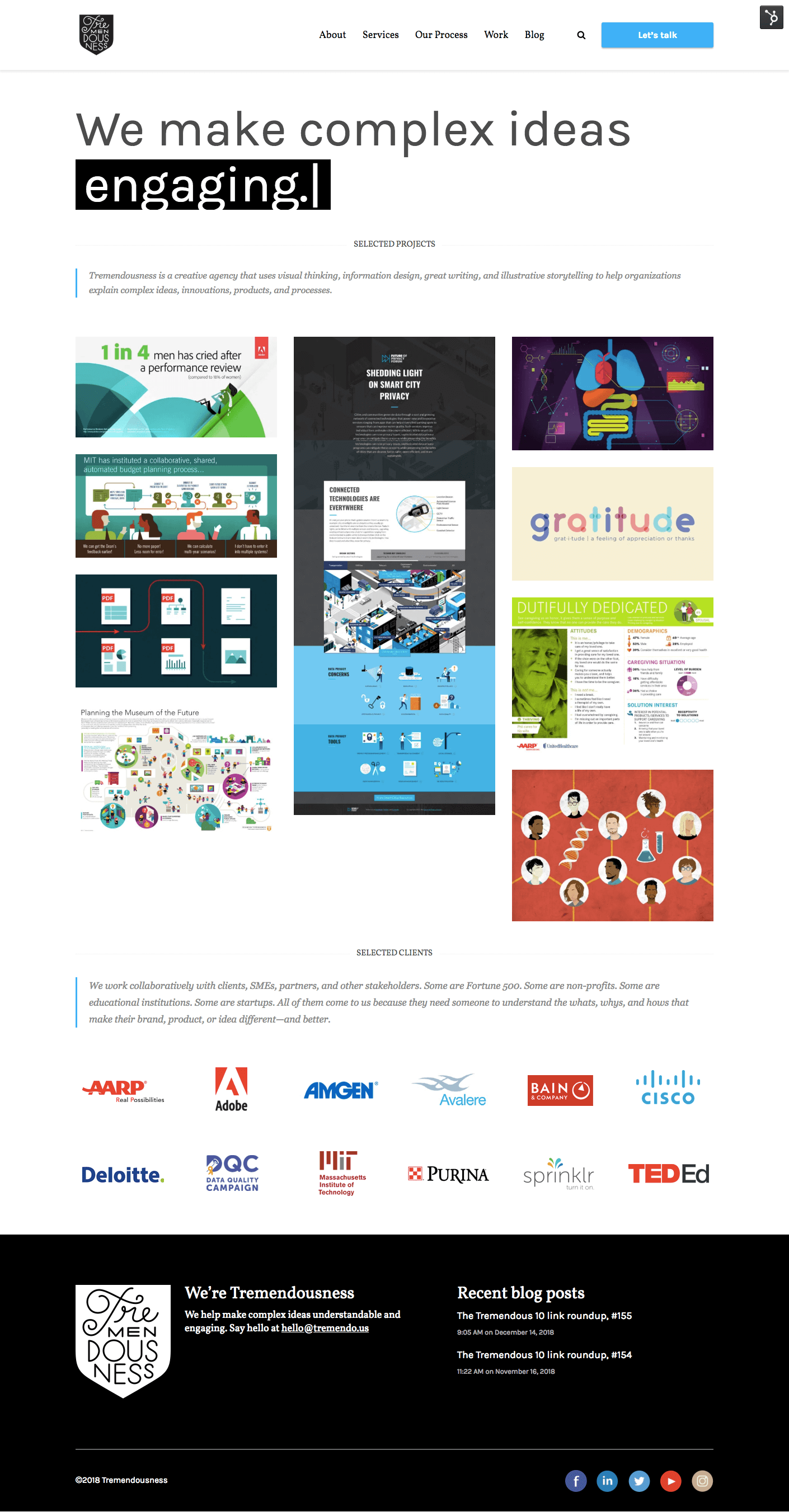 Informational architecture creation
Once migrated to HubSpot, we took to creating an informational architecture for Tremendousness's new and improved homepage. Tremendousness had a clear idea of how to design their page, but they needed our help with a strategy to effectively funnel leads throughout their sites and drive visitor-to-lead conversions. This was mostly achieved through the addition of multiple CTAs that guided their visitors throughout the site, as can be seen in this image of the informational architecture below.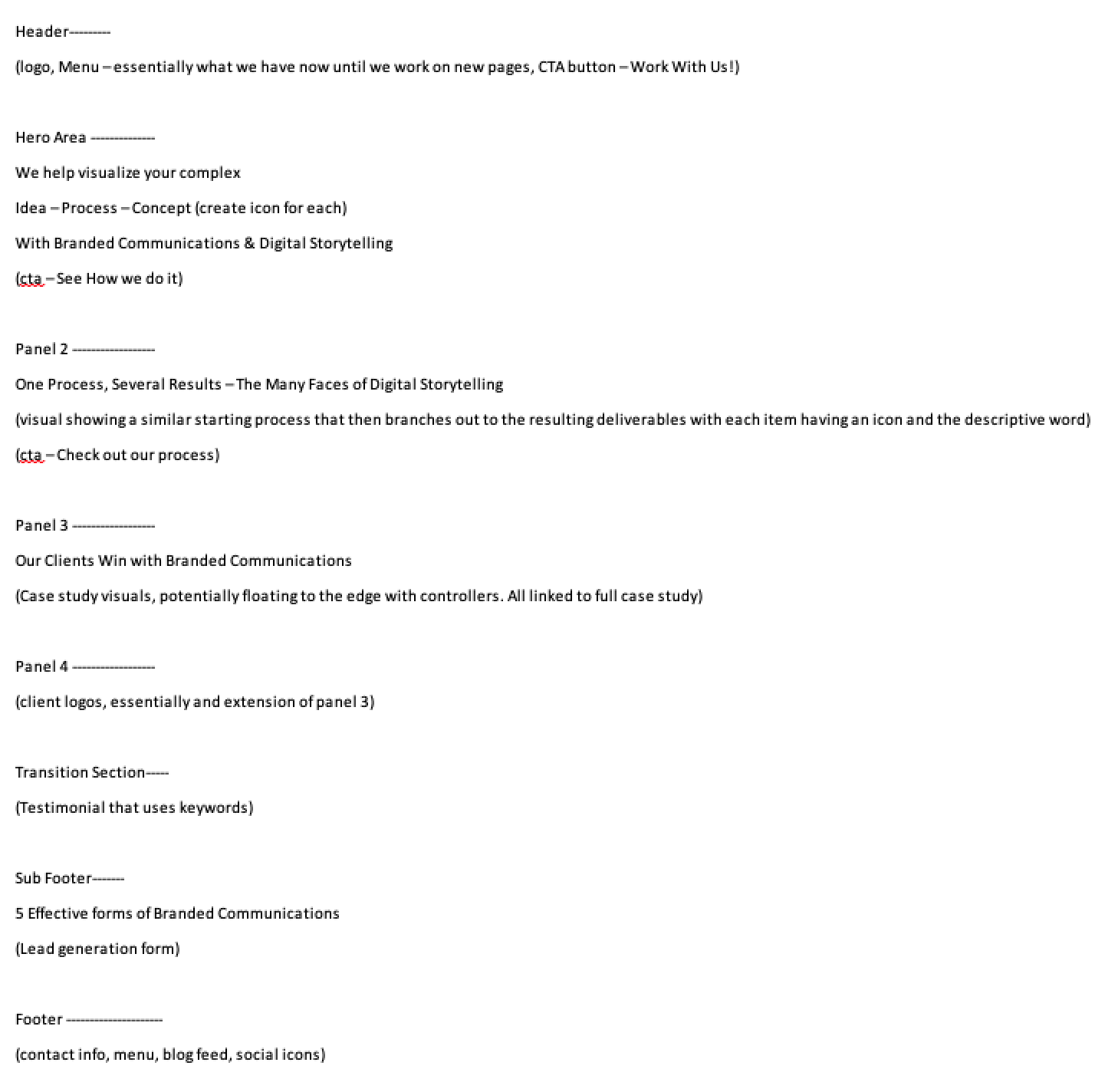 Informational architecture review
Once the informational architecture document was created and approved, Tremendousness got to work implementing it (they are a design agency after all). Tremendousness took it upon themselves to create a wireframe and a first draft of what the homepage would look like. This gave us a great overview to work with so we could help them refine the final homepage redesign.

Refining of the final homepage design
Once we received their version of the homepage we began making our additions to create the final homepage design. We took the design they sent us and refined it to include:
Multiple button and in-text CTAs;
Clear funneling;
A website pop-up;
A redesigned footer; and
A visually appealing design.
Tremendousness had done a lot of the heavy lifting, but there was still much work to do if we wanted to achieve their goals and meet their expectations. In order to do this, we created a homepage that took all of their IA recommendations into account while also focusing on what they wanted to achieve most - conversions and funneling. Tremendousness's new and improved homepage was launched in October of 2018.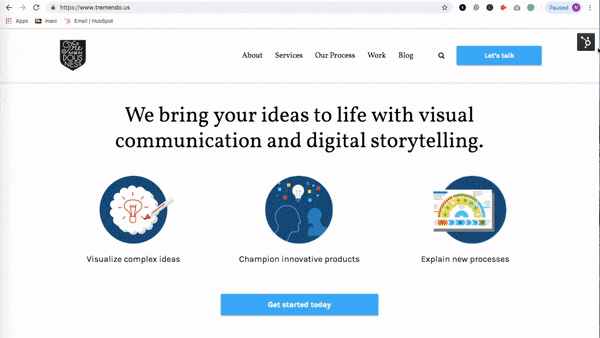 The Results
Design doesn't work when it doesn't produce results, and thankfully, results are what we have seen from Tremendousness's redesigned homepage. Keeping in mind Tremendousness's main goals, we were able to achieve:
An increase page views per session by 16.67% (August-September Vs. October-November)
An increase in homepage CTA click % from 0 to 2.17%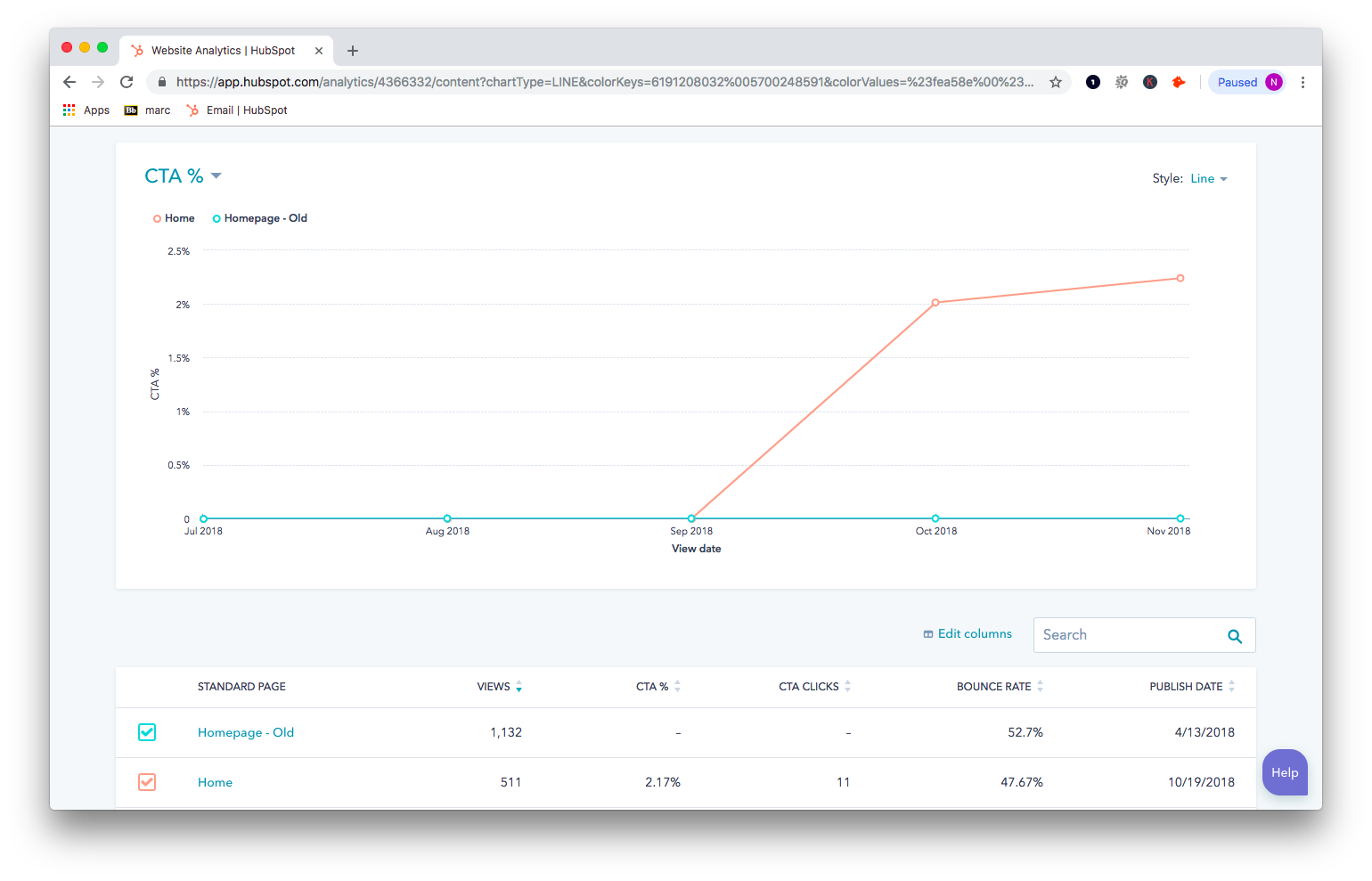 A 5.34% decrease in bounce rate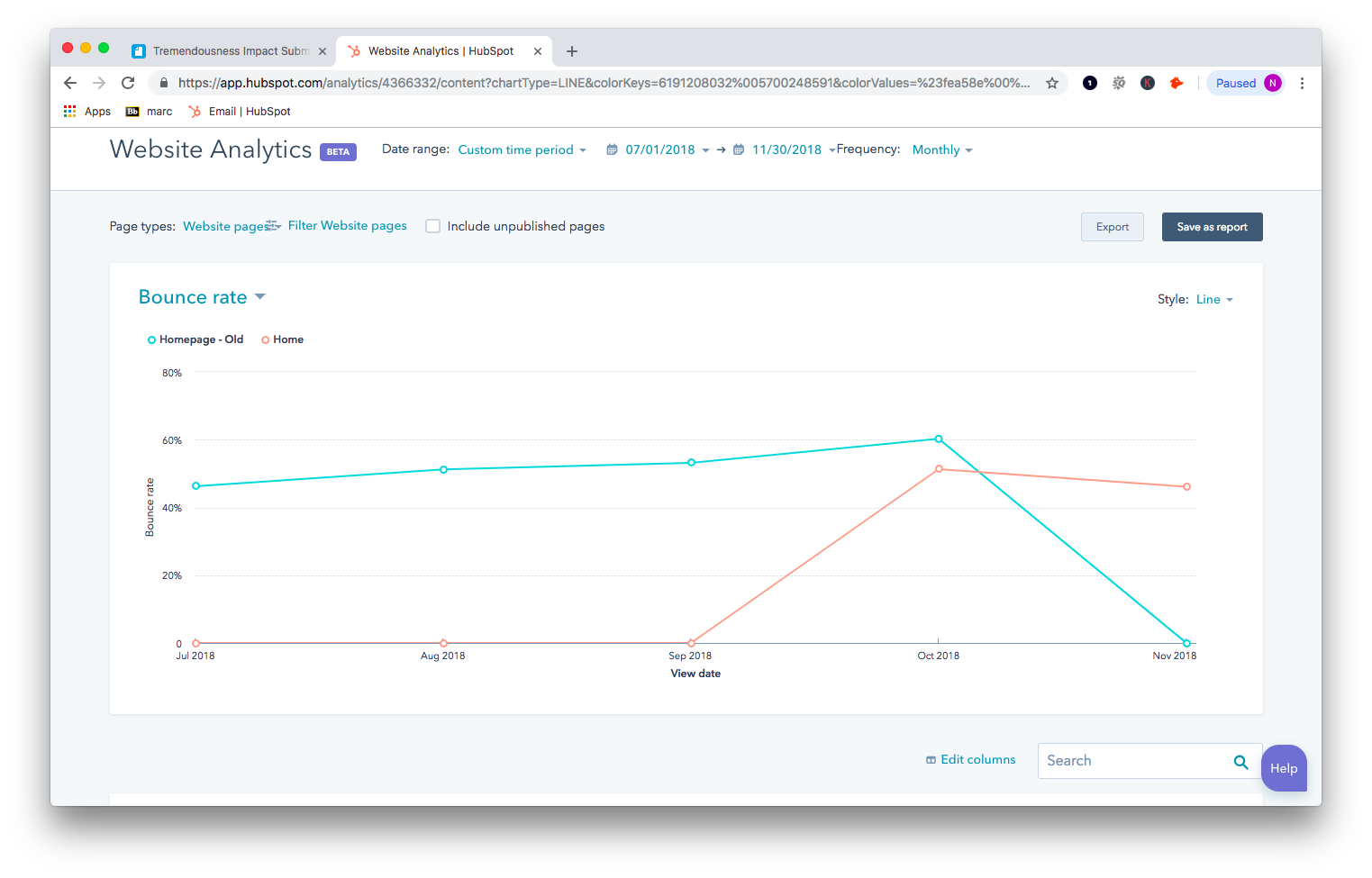 Although the timeframe is brief, you can see from the results that Tremendousness is well on its way to achieving its goals. Leads are viewing more pages per sessions, which means their funneling is working, homepage CTA Click % is at 2.17% (up from 0 with absolutely no CTAs on the home page), and bounce rate has decreased. That means that visitors are finding where to go next and exactly what they need.
By combining Tremendousness's vision with Campaign Creators experience, we were able to achieve what we set out to do and can't wait to see more results.