Hello everyone, today we have a very special episode of Nick's Ad Chat - where we talk all things PPC.
The lovely people over at HubSpot have given us early Beta access to the new Facebook Ads integration feature. Let me show you how to integrate your accounts, manage your ad campaigns and start reporting Facebook ad ROI back to your team. Connecting your marketing automation software to your PPC ads has never been easier.
Setting up the 'Ads' Add On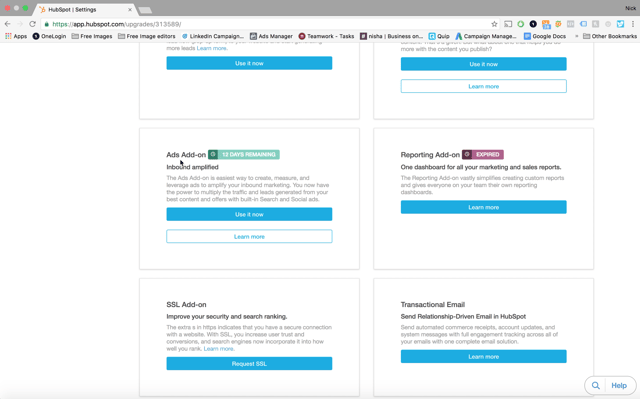 If you want to connect your Facebook Ad Account to your HubSpot account, you first have to activate the add-on. To do this from within HubSpot, click on 'Settings' from the dropdown under your HubSpot Id in the upper right hand corner of the screen. On the Settings page select 'Products & Add-ons' from the menu. Scroll down the Products page until you find the Ads Add-on. When you first see it, there will only be the option to 'Learn More'. To get the full add-on package you will have to pay. However, if you want to try before you buy, HubSpot offers a 14 day free trial.
Connecting your Facebook Ad Account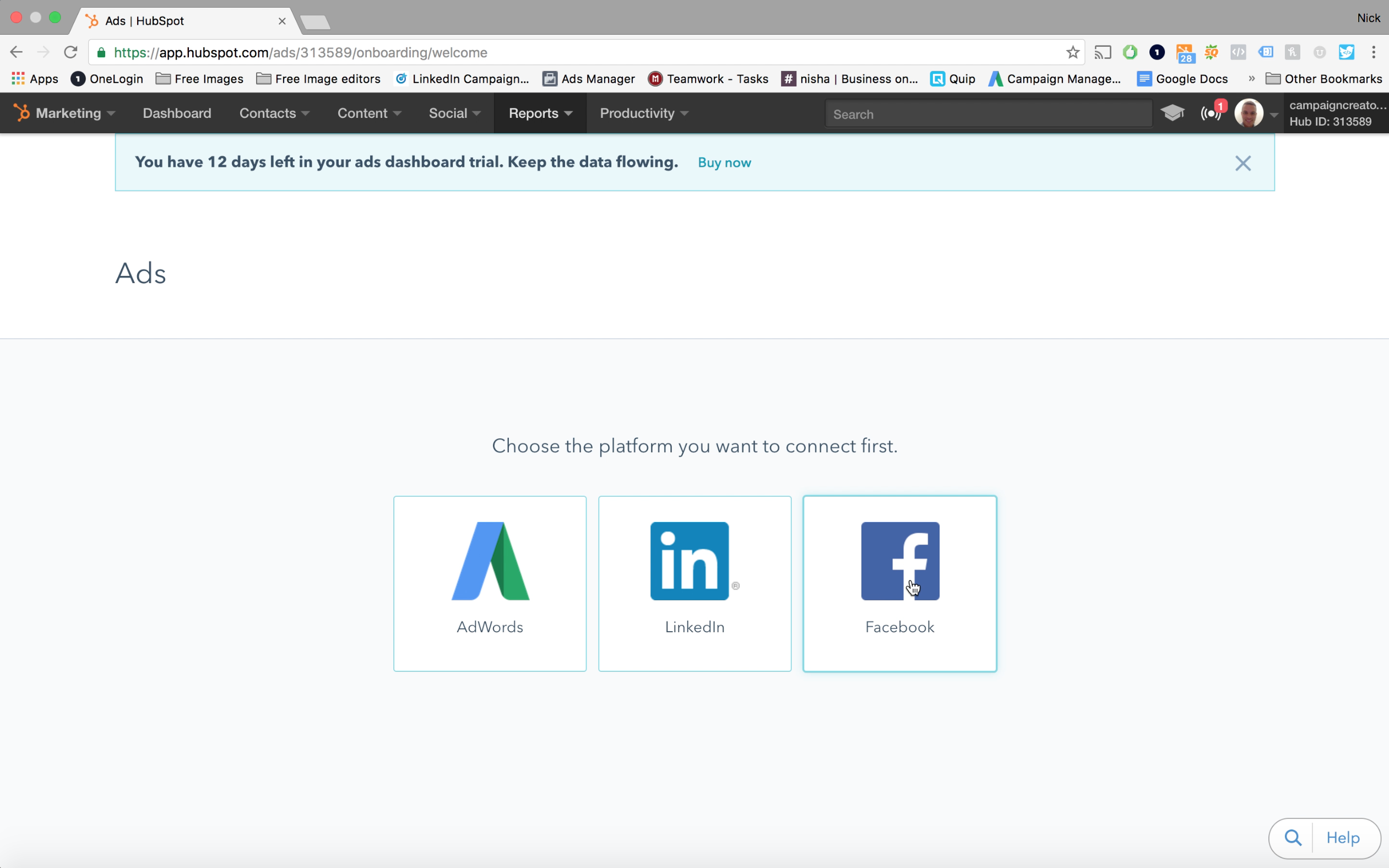 When you open up the new tool click, 'Get Started'. Here you will see the three channels you can integrate - Adwords, LinkedIn and our good friend, Facebook. Click on the Facebook icon and it will prompt you to authorize your account. To do this input your personal password for your Facebook account and sign in. Next, select the Facebook Ad Account you would like to use and Voila! You are fully integrated.
Managing your Ads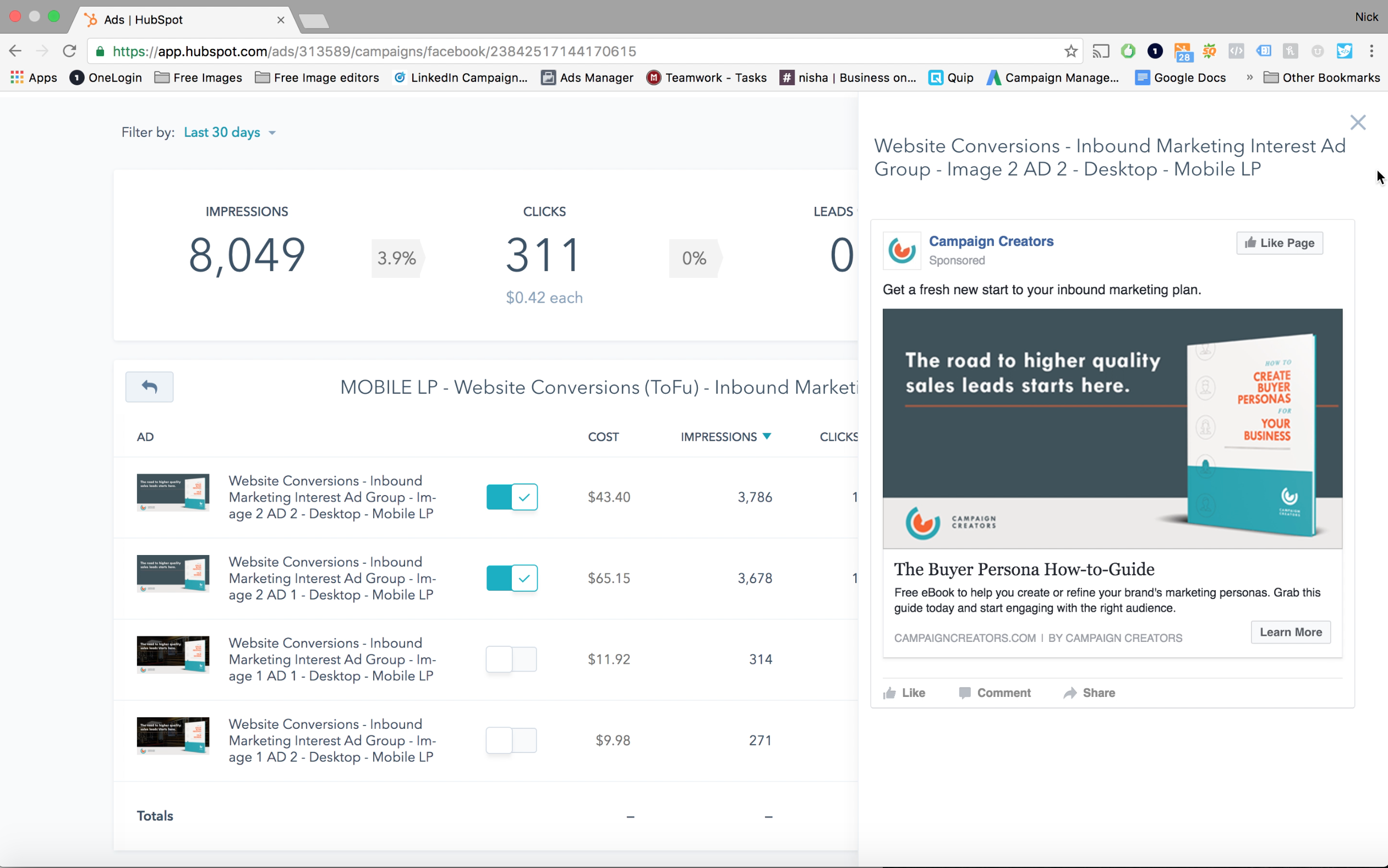 Just like that, your whole account is integrated. In the first tab you can see stats like impressions, CTR, clicks as well as the number of leads and customers your ads have generated. However, keep in mind that the report will not take into account the leads you generated prior to activating the feature.
Below your top-level stats you will see a breakdown of all of your campaigns. If you drill down into one of them, you will get a lot of the same functionality that Facebook Ad Manager provides. For example, you can turn your Ad Groups on and off, see previews of your ads and even filter your views based on different timelines.
Analyzing your Ads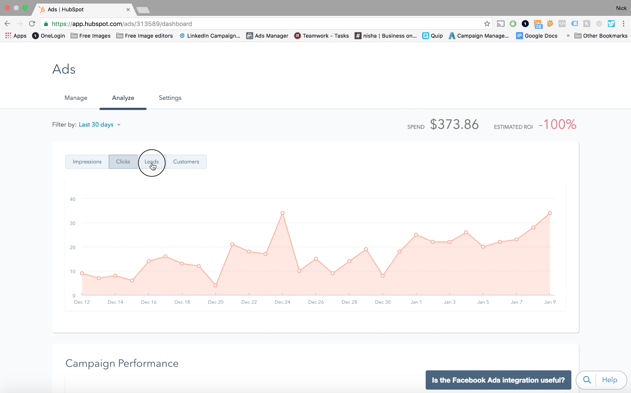 If you click over to the Analyze section of the Hubspot Ads Add-on, you can see detailed stats on how your ads are performing. The main treat here is the ability to see the progression from impressions, to clicks, to leads and, of course, to customers. Full. Loop. Reporting.
R.O.I. Calculator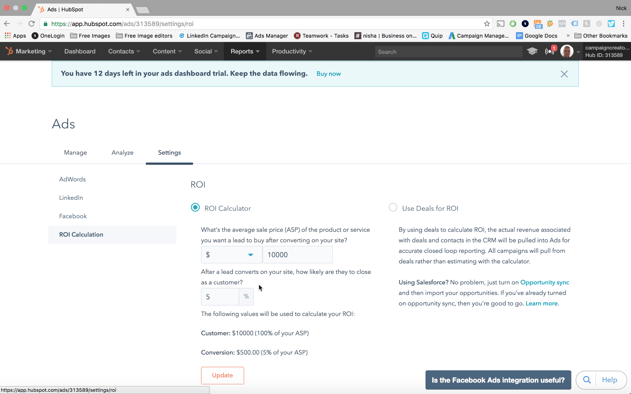 Perhap the greatest new feature that HubSpot implemented into their Ads Add-on is the ROI Calculator. To use it, hop over to the 'Settings' tab and input the average value of a single new customer to your business. Below that, add your best estimate of your conversion rate from lead to customer for that channel.
So, for example if your average customer is worth $10,000, and you convert one out of 200 leads to a customer - you input $10,000 and 0.5%. Once you input those numbers, you will see an updated ROI calculation based on your ad spend in the top right corner of your dashboard.
Report your Results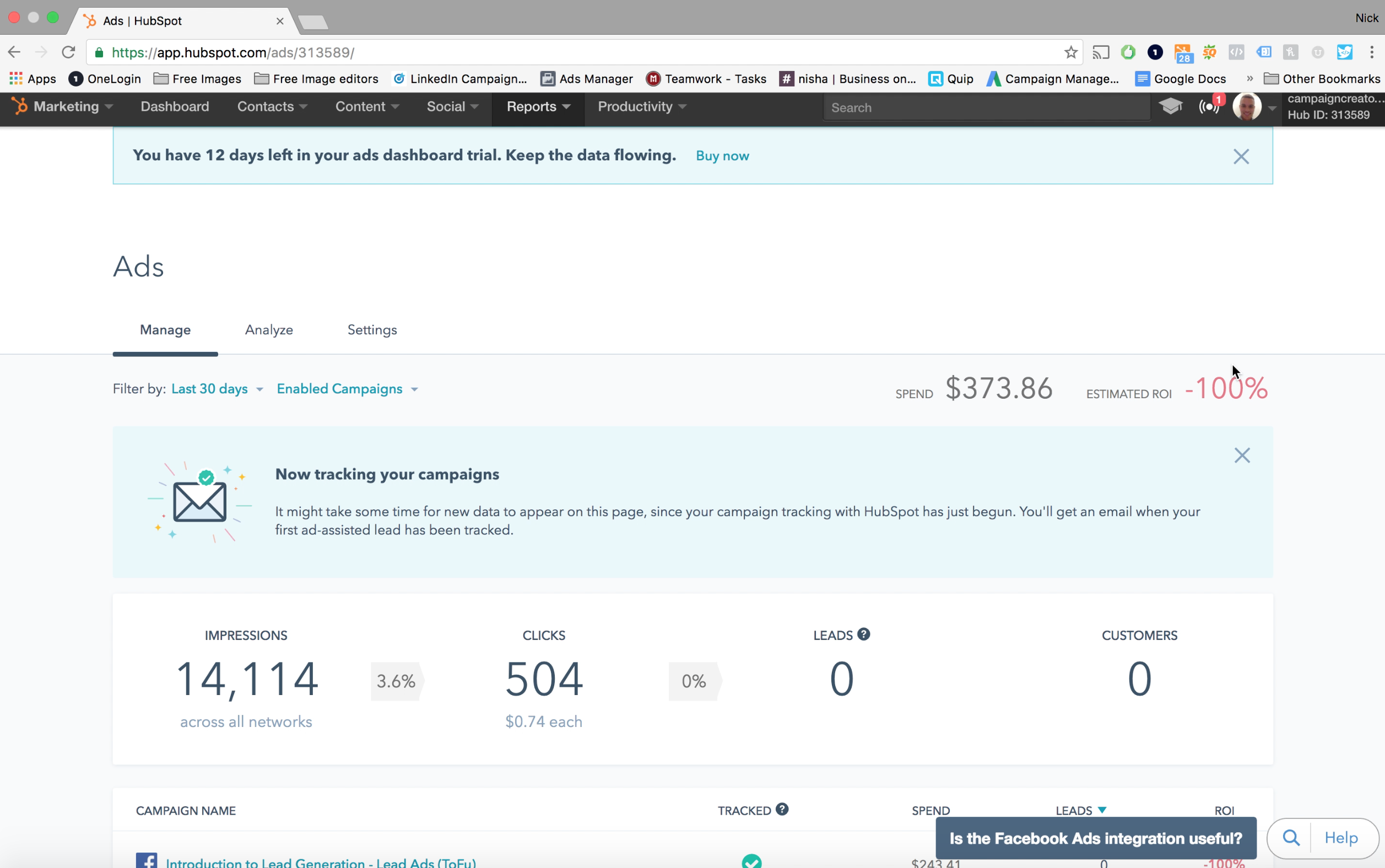 The immediate value of this calculator is you will be able to tell whether or not your ads are performing as they should. Next, it gives you the ability compare ROI of your ads across different channels. This is especially useful if you are utilizing the Google Adwords and LinkedIn Ads HubSpot integrations.

Say, for example, you are not bringing in as many leads from LinkedIn (compared to Facebook) and spending a lot more money. However, the leads you are bringing in are converting into customers at a much higher rate. You will easily be able to compare the ROI of these channels. All you have to do is go back to settings, upadte the ROI calculator with your conversion rate for LinkedIn and take a look at your LinkedIn ads.

Finally, the ROI Calculator also encourages collaboration between Marketing and Sales. In another hypothetical situation, Marketing could be delivering a high quantity of leads to the Sales team but none of them are converting to customers. This gives Marketing the opportunity to reach out to the Sales team, learn some information as to why the leads are not converting and then use these tips to update and optimize their ads.
CONCLUSION
That's all we have time for today. All in all - I am very excited by this new tool. Connecting your Facebook Ad account with HubSpot couldn't be easier, and the I am impressed with the functionality of the tool. I also see many possibilities for growth in the future - in particular the ability to create and edit your Facebook ads.
Thanks again for watching. And thank you once again to our partners at HubSpot for giving us the opportunity to test-run this new tool. See you next week!
Want help converting those leads you attracted from your ads into customers? We have the [guide] to get you started - grab yours now.