It's well known in the inbound marketing world that HubSpot offers some of the most powerful marketing, CRM, and sales platforms. Their software consistently ranks among the top of its kind, having been praised for everything from its versatile features and user-friendly interface.
While automation almost always comes with a price, HubSpot happens to offer both paid and free versions of its products. But are HubSpot Marketing and Sales Free viable software options for your company, and what can you do with those included features?
Let's dive into some of the best aspects of these tools— and how they can be used in combination with HubSpot's totally free CRM— to find out whether the best things in life (or more specifically, marketing) really can be free.
Best Features of the Free HubSpot Marketing Tool
HubSpot Marketing Free packs a punch for several reasons, starting with the range of tools it offers for an inbound marketing strategy.
Lead Flows (aka Pop Up Forms)
A central feature of what the software offers is called a lead flow, which consists of a pop-up form on your website that delivers an offer (such as a demo, ebook, etc.) to potential leads. Flows can be customized by type, added image, form questions, and display conditions.
When a lead fills out the pop-up form, their contact information is pulled from various online sources and organized neatly in a single database. Further interactions with leads-- and to some extent, your company's relationship with them-- are then managed through the database.
Analytics Dashboard
The lead flow feature is paired with a comprehensive dashboard, which serves as a central hub for marketing analytics on pages, offers, form conversions, traffic sources, and more. Every lead activity is logged in a personalized timeline, enabling you to better understand the phase of the buyer's journey at which each of your leads currently stands.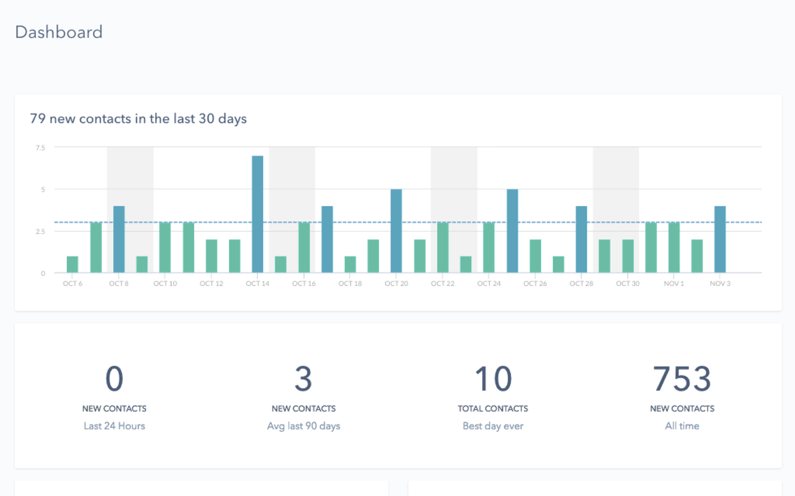 Integrations
Finally, integration with email, CMS, and form tools give Marketing Free a lot of potential as a top and middle-of-the-funnel software. Though the features list runs considerably shorter than that of the paid packages, the free version of the tool gives a digital marketer's lead management strategy a solid boost.
Best Features of the Free HubSpot Sales Tool
At its basic level, HubSpot Sales Free comes with an impressive package of free features. With tools like predictive lead scoring, customer activity and info logging, and personalized meeting setups, Sales helps to automate your lead nurturing process every step of the way.
Email Sequences
All of the necessary resources for automating your sales follow up activities come with the software— customizable templates, contact database management, scheduling, and tracking. The tracking tool is particularly valuable, as it delivers desktop notifications instantly when prospects opens an email, clicks a link, or downloads an important document, basically gauging the success of a particular email sequence.
Meetings
You can take the hassle out of scheduling meetings by sending out a customized link that lets leads set up a time based on mutual availability. And connecting with clients doesn't stop there— the calling feature optimizes your calling list with a data-powered daily queue, a call recording feature, and automatic call logging. Sales Free also synchronizes with your email, Google Suite, and Microsoft Outlook.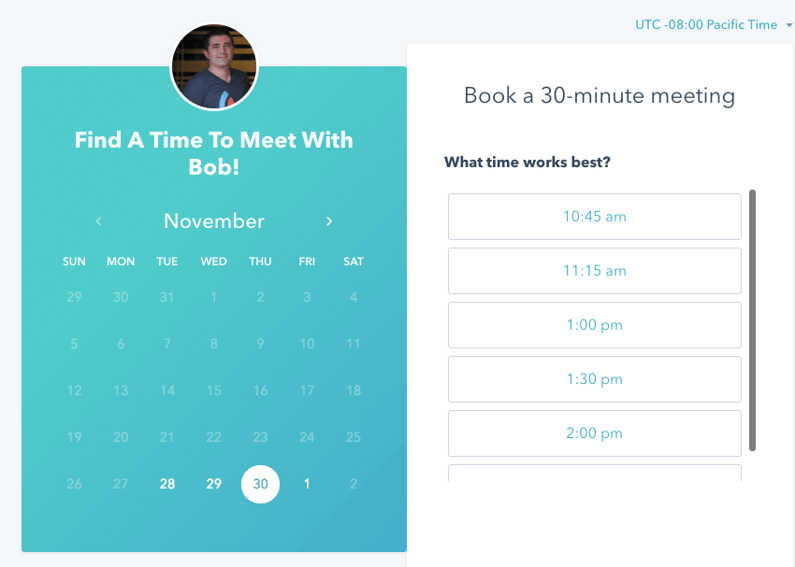 Activity Stream
Finally, built-in activity stream automatically logs each lead's history inside of your browser or Sales so you can optimize your follow-up later. Both readymade and customizable reports and dashboards with a range of metrics can be prepared on your leads to "close the loop" through analysis of every company-customer relationship.
HubSpot CRM Best Features
Hubspot's CRM (Customer Relationship Management) software is designed to integrate smoothly with their Marketing and Sales Platforms, completely free of charge. Its outstanding features include:
Contact management of up to 1,000,000 contacts
A "live" sales pipeline in the form of a dashboard, with sortable deals and lead information
Easy automatic logging of sales activities
An integrated lead management system with call and meeting scheduling and email sequencing (intended to be combined with HubSpot Sales and Marketing)
A library of email templates
A variety of integrations, from Eventbrite to Shopify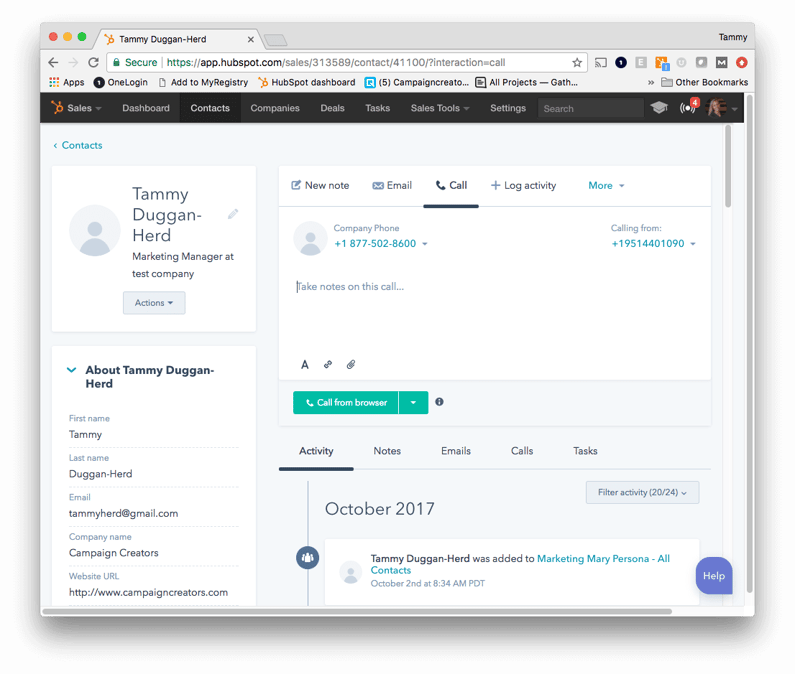 HubSpot Pricing Options
Of course, the free versions of Marketing and Sales, while a great fit for many companies, can always be upgraded to paid versions with expanded features. The Marketing software comes in four paid tiers— Starter, Basic, Professional, and Enterprise, coming at 50, 200, 800, and $2,400 a month respectively. Sales, meanwhile, comes in Starter and Professional packages at 50 and $400 monthly.
The paid tiers differ in the number of extra options available, the number of user accounts allowed to use the software, and limits set on features included in Sales and Marketing Free (for example, while Sales Free is limited to managing 5 documents per portal and tracking 200 recent email opens, these numbers are unlimited in the Starter version).
Which Marketing and Sales Plans are Right for You?
HubSpot Marketing Free and Marketing Starter are both great options for new HubSpot users or marketing automation newbies in general; clear cut with their features and easy to set up, they make for great, inexpensive options. The main advantage of the Starter plan are the custom form field features and phone and email support services.
The more full-coverage Marketing Basic package kicks things up a notch with optimization tools for SEO, social, and email, as well as custom CTAs, landing pages, and keyword rankings. This plan works well for smaller companies with modest budgets.
On the other hand, the Pro and Enterprise are for marketers that want to maximize their companies' automation potential and are willing to invest a bit more to attain it. Pro includes the features of Basic, with the significant addition of email nurturing workflows and A/B testing , which automate two major processes in a marketing strategy.
Finally, Enterprise fires on all cylinders with advanced, custom reporting and predictive lead scoring, a crucial component of lead nurturing. This tier also has a massive contact limit (10,000), which is largely why it is popular with large companies.
The breakdown of Sales options is a bit simpler, though still important to understand. The Starter version adds on live chat from your site, phone and email support, and email sequences; optimal for a growing business, it tacks a few "fancier" features onto the Sales Free plan while expanding the limits of the email, documents, and calling features.
In comparison, HubSpot Sales Pro is designed for professional sales teams who are ready to take their strategy to the next level. It offers enhanced features such as multiple pipelines, smart notifications, and (like its Marketing counterpart) predictive lead scoring.
The Bottom Line: A Solid Starting Point
Ultimately, the best fit for your company will depend on the size of your team and client base, the degree of automation desired, your level of prior experience with marketing software, and the size of the budget you're willing to allocate toward your software. In any case, HubSpot Marketing and Sales Free serve as perfectly good starting points to test the waters and decide whether higher-class features are worth investing in at a later time.
Ready to take the next step? Sign up for your free version of HubSpot Sales and Marketing today. If you already have HubSpot we can help you make the most of it with our HubSpot Setup and Training Packages.