Generating leads is only the first step for any modern marketer. Marketing automation tools are making marketers become more efficient in creating content for the website, generating leads, doing Email marketing, segmenting and scoring leads. But what if the amount of leads that you have generated is starting to give you a headache?
Common Lead Data Problems
Does any of the following sound familiar?
You are adding more and more values having the same meaning to the list.

For example, you are entering New York and NY into your filter for an event being run in New York.

You have no ability to segment based on a field due to multiple variations and using 'contains' in your filter misses a majority of your leads.

For example, a person's title cannot be segmented because it was a free form text field as opposed to a drop-down menu.

You have potential leads to be passed to sales, but they do not qualify as MQLs due to missing data.

For example, your lead score system will only pass leads if they contain a phone number. Or maybe the leads are missing a geographic location which is needed for territory assignment of the leads. In both cases the sales cannot reach the leads.

Your Unsubscribed rate is increasing and you do not know how to fix it.
You have uploaded the latest list from a tradeshow only to find out that bounce rate is high and you have no clue why.
These are some very common problems that today's marketers face every day regardless of industry or size of their company. Do not despair. The solution lies in cleaning your leads.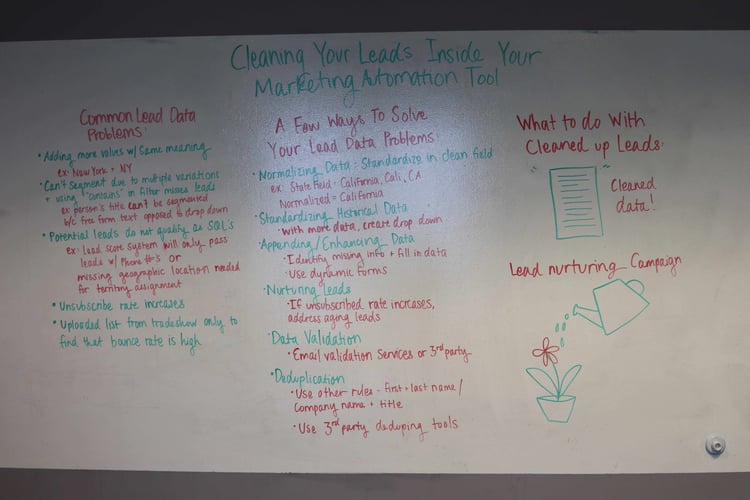 Here are a Few Ways to Solve Your Lead Data Problems:
Normalizing data. You can standardize data into a new clean field. For example, state field can include California, Cali or CA but a State Normalized field would turn all of the values into 'California'.
Standardizing Historical Data. Historically, you may have collected data as a free text (format) but now when you have collected a lot of data you may choose to change it to a drop down. Then, you may classify all the data just as you would do for data normalization.
Appending or Enhancing data. You may identify records with missing information and work with third party data providers to fill in the missing data. Alternatively, you can use dynamic forms to gather the missing data.
Nurturing Leads. If your unsubscribed rate is increasing it is time to develop a marketing strategy to address aging leads.
Data Validation. Sometimes simple errors can occur. Someone misspelled their email address, wrong data was uploaded to the wrong field or bogus data was entered by spammers. Not to worry, there are email validation services that can be used as an add on service directly inside your tool or you can use a third party to validate both your emails and other data.
Deduplication. While your tool will dedupe based on email address, you may have to dedupe using other rules such as first and last name or between company name and title for outdated leads. For that you can use third party deduping tools.
While cleaning your leads may be a daunting task, the advantages of being able to segment, improve your marketing ROI and send better quality leads to sales are well worth the effort and time it takes. Of course, you can always outsource your data cleaning to a reputable data cleaning company.
What to do with cleaned up leads
Once you've cleaned your lead's data, it's time to implement a strategic lead nurturing campaign to turn those leads into customers. Learn exactly how by checking out our Lead Nurturing Masterclass.
About Our Guest Author
Anna Kayfitz is C.E.O. and founder of StrategicDB Corporation, an analytics and data cleansing company. Anna has over 10 years of marketing and analytics experience with companies such as Oracle Marketing Cloud (Previously known as Eloqua), Harlequin Enterprises, Sunwing Travel Group and a few start-ups. She also holds an MBA from a top business school in Canada.
StrategicDB Corp. helps businesses get more from their data. By analyzing sales and marketing data, you can derive tremendous value for your business. StrategicDB offers data cleansing services because no analysis is possible if you cannot trust your data. Some of our services include: segmentation modelling, dashboard building, market basket analysis, lifetime value analysis and much much more.